Table of Contents:
Introduction
The World's Most Amazing Vacation Rentals- Netflix
Tales by Light- Netflix
Nomadland – Netflix
The Art of Travel – Amazon Prime
Dark Tourist- Netflix
Conclusion
FAQs
Introduction:
While travelling alone can be an amazing adventure, it can also be isolating at times. Web series can fill that need by offering entertainment, motivation, and a sense of community. We'll be sharing our picks for the top 5 web series recommendations for lone travellers in this article.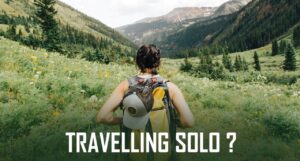 These shows will keep you occupied whether you're waiting for your next flight, unwinding in your hostel, or simply taking a break from touring. There is something for everyone in these shows, which span in genre from comedies to dramas.
As a lone traveller, there are times when you need a short break from seeing the world and just want to relax in your hotel or hostel room. Watching some of the best web series available is a great way to unwind. Here are our favourite picks for solitary travellers among web series:
The World's Most Amazing Vacation Rentals:
"The World's Most Amazing Vacation Rentals" is a popular travel-themed television series available on Netflix. The show is hosted by two travel enthusiasts, Megan Batoon and Luis D. Ortiz, who explore some of the most extraordinary vacation rental properties around the world.
Each episode of the show focuses on a different location, highlighting unique vacation rental options that provide travellers with a once-in-a-lifetime experience.
The properties featured on the show range from treehouses and castles to luxurious villas and apartments, offering a diverse range of travel experiences for viewers to enjoy.
The programme offers viewers a glimpse into the region's customs and culture in addition to showcasing some absolutely stunning properties. It also offers interviews with the owners of these holiday rentals who provide insights into the inspiration behind their unique houses.
"The World's Most Amazing Vacation Rentals" has gotten great reviews from both fans and critics for its stunning sights, engaging hosts and unusual premise. Many travellers have also been motivated by it to look for more novel and interesting lodging options on their upcoming excursions.
For everyone who enjoys travelling can watch this while trvelling alone. The must-see programme "The World's Most Amazing Vacation Rentals" will transport you to some of the most stunning vacation rentals throughout the world, whether you are a seasoned traveller or just seeking for inspiration for your upcoming trip.
Tales by Light:
A television documentary series called "Tales by Light" examines the craft of photography. National Geographic and Canon Australia worked together to produce the programme. It has three seasons from its debut in 2015.
A photographer is followed in each episode of "Tales by Light" as they visit a distinctive area and take amazing pictures of the people, landscapes, and wildlife they come across. The programme showcases photographers from around the globe who specialise in various photographic subgenres, such as nature, wildlife, travel, and culture.
"Tales by Light" explores the photographic process in addition to exhibiting the work of skilled photographers. The difficulties and dangers associated with getting the ideal shot are revealed to viewers, along with the technical expertise and tools needed.
For its breathtaking aesthetics and insightful writing, the series has won praise from critics. The Gold World Medal at the New York Festivals International Television and Film Awards is only one of the accolades it has received.
Overall, "Tales by Light" is a must-see for anyone interested in the practise of visual storytelling and photography.
Nomadland:
Based on Jessica Bruder's 2017 nonfiction book "Nomadland: Surviving America in the Twenty-First Century," "Nomadland" is a 2020 American drama film directed by Chloé Zhao. Frances McDormand plays Fern, a lady in her 60s who, following the demise of a corporate town in rural Nevada, becomes into a modern-day nomad and travels across the American West while residing in a van.
The desire for purpose and connection in a world that is changing quickly is one of the issues that the movie tackles. It also sheds light on the expanding trend of elderly Americans who, as a result of financial hardship, have adopted a nomadic lifestyle and move about in quest of seasonal employment.
The Venice Film Festival hosted the world premiere of "Nomadland" in September 2020, and it took home the Golden Lion, the festival's top honour. Later, it gained praise from critics and garnered numerous nominations and prizes, including four Academy prizes for Best Picture, Best Director, Best Actress, and Best Adapted Screenplay.
In numerous American West states, including Nevada, South Dakota, and Arizona, the movie was shot over the course of four months on location. The film's breathtaking cinematography captures the scenic grandeur of these places and heightens the feeling of adventure and wanderlust throughout.
Overall, "Nomadland" is a touching and thought-provoking movie that compassionately and empathetically examines the lives of contemporary nomads. Audiences all across the world have reacted well to its message on the human cost of economic injustice and the desire for a feeling of belonging in a rapidly changing society.
The Art of Travel:
The web series "The Art of Travel" is dedicated to examining various travel locales all around the world. Through the perspectives of local artists, musicians, and other creatives, the programme strives to provide viewers a distinctive viewpoint on different cultures and locales.
The host of the show leads viewers on a quest to find the area's secret treasures in each episode, which each covers a different site. "The Art of Travel" examines the various aspects of travel that distinguish each area, from street cuisine to music to art and architecture.
The travel agency TourRadar created the online series, which can be viewed on both their website and YouTube channel. It has won praise for its captivating tale, gorgeous cinematography, and original approach to travel-related content.
In conclusion, "The Art of Travel" is a must-see for anyone who enjoys exploring new places to visit and is curious to learn about the rich cultural diversity of many locations across the world.
Dark Tourist:
A travel web series in the documentary format called "Dark Tourist" was made available on Netflix in 2018. The programme follows journalist David Farrier as he goes to strange and frequently eerie tourist attractions around the globe.
A different setting or theme is featured in each episode, such as a haunted forest in Indonesia, a nuclear exclusion zone in Japan, or a Civil War battle reenactment in the United States. To learn more about the background and significance of each area as well as the driving forces behind visitors, Farrier meets with both locals and specialists.
The programme has received appreciation for its original and provocative take on tourism as well as its examination of the more sinister facets of human history and society. It has, however, come under fire for allegedly glorifying and using tragedy and pain for amusement.
Each of the eight episodes of "Dark Tourist" lasts for about 40 to 50 minutes. David Farrier wrote the script, Philippa Kowarsky was the director, and the cast and crew of the wildly popular "Stranger Things" Netflix series served as executive producers.
Farrier keeps a curious and open-minded attitude towards every place he sees throughout the series. Whether it's for historical, cultural, or personal reasons, he tries to comprehend why people are drawn to these frequently unpleasant locations. Along the way, he wrestles with the moral ramifications of dark tourism as well as his own prejudices and concerns.
Overall, "Dark Tourist" presents an original and provocative viewpoint on the meeting point of travel, culture, and human nature. Anyone interested in learning more about the murkier aspects of the world and our own mind will find it to be an intriguing film.
Conclusion:
Finally, viewing web series while on a single trip is a great opportunity to get immersed in new cultures, have new experiences, and be inspired for your next trip. These top 5 web series picks for solitary travellers cover everything from the culinary delights of "The Way I See It" to the unusual locations of "Trips with Angie," and they're sure to keep you interested and motivated on your solo trip.
FAQs:
Are these web series free to watch?
Yes, all of the series mentioned in this article are available for free on various streaming platforms such as YouTube and Netflix.
Can I watch these web series offline?
Most streaming platforms allow you to download episodes and watch them offline. However, it depends on the platform and the series.
Are these web series suitable for all ages?
The recommended age varies depending on the series. Some series, like "Trips with Angie," are family-friendly, while others, like "Dark Tourist," are not suitable for children.
Are there any other web series you recommend for solo travelers?
Yes, there are many other web series that are perfect for solo travelers. Some additional recommendations include "A Map for Saturday," "Street Food," "Pedal the World," and "Expedition Happiness."
Can I find more travel recommendations online?
Yes, there are many travel bloggers, influencers, and websites that offer travel recommendations for solo travelers. Just make sure to research and verify the information before making any travel plans.