From the world's largest freshwater lake, Lake Superior, to North America's largest alpine lake, magnificent Lake Tahoe on the California-Nevada border, to the cleanest lake in the United States, Crater Lake in Oregon, America is home to some of the world's most beautiful and record-setting lakes. However, not all lakes are made equal, and some stand out above the rest. These are the best lakes in the United States, with everything from miles-long natural bathing pools to lonely wilderness retreats for spending a worthy lake vacation.. (Note: The coronavirus pandemic may affect some of these places). New policies, such as mandatory testing or vaccinations for visitors, may be implemented.
1. Lake Tahoe, California
Lake Tahoe is unique as a lake vacation destination for a variety of reasons. The first is the sheer scale of it. Lake Tahoe is so large that it borders two states (it's 22 miles long and 12 miles wide) (California and Nevada). The second feature is the lake's extraordinary clarity, which is due to precipitation falling straight onto the lake rather than seeping into it from the surrounding land. 
The third feature is the area's spectacular surrounding mountains, which provide excellent hiking and skiing paths, particularly at top resorts like Heavenly, Squaw Valley, and Northstar California. If you're looking for somewhere to stay, there are plenty of options, including the highly rated Ritz-Carlton, Lake Tahoe, and campgrounds like those found at picturesque D.L. Bliss State Park.
2. Crater Lake, Oregon
Oregon is home to America's deepest lake. Crater Lake, at a depth of 1,943 feet, is the consequence of a volcanic explosion around 8,000 years ago that created a crater that rain and snowmelt eventually filled into a lake over millennia.
Crater Lake is the cleanest lake in the United States and the world, according to scientists, because it is not fed by any streams or rivers. It's also the clearest, with visibility of up to 100 feet and sunlight reaching 400 feet below. As a result, scuba divers flock to Crater Lake to investigate the lava formations and moss-covered underwater landscapes.
Fishing is another popular pastime on Crater Lake, though fishermen, divers, and anybody else who wants to see the lake from the shore must descend 700 vertical feet via the Cleetwood Cove Trail. Boat cruises departing from Wizard Island, one of Crater Lake's two islands, are the only alternative way to get there.
3. Lake Havasu, Arizona
Lake Havasu provides guests with a once-in-a-lifetime opportunity to cool off amid the Sonoran Desert. Lake Havasu, located on the California-Arizona border, offers a variety of outdoor activities (the city experiences more than 300 days of sunshine per year). 
Boating, hiking, and swimming (the region has 400 miles of shoreline) are the most popular activities, with popular places including Lake Havasu State Park, Rotary Community Park, and the shores along the Bridgewater Channel. A wide range of hotels, motels, RV parks, campgrounds, and other lodging alternatives are available to suit all budgets. Keep in mind that Lake Havasu is a popular spring break location, so if you want to avoid the crowds, go outside of March and April.
4. Lake Michigan
The United States and Canada have the world's largest network of interconnected freshwater lakes in terms of total area and second-largest in terms of the total value. This set of five lakes, known as the Great Lakes of North America, holds 21% of the world's fresh water by surface area. All of the lakes, which are located on or near the Canadian border, are connected to the Atlantic Ocean by the St. Lawrence River.
With a shoreline covering four states, Lake Michigan is the third largest of the Great Lakes and the only one that does not touch Canada. On Lake Michigan, Chicago is a significant city. However, the majority of visitors come to play at the lake's section on Michigan's Lower Peninsula. Top attractions include the Sleeping Bear Dunes National Lakeshore, which features 450-foot-high sand dunes.
5. Mammoth Lakes Basin, California
This alpine treasure is a haven for adventurers. Mammoth, about 40 miles southeast of Yosemite National Park, is home to over a dozen lakes, all of which are surrounded by beautiful Eastern Sierra mountain scenery. This means there will be plenty to do on both land and water. Swimming, fishing, boating, kayaking, and paddleboarding are all permitted on the lakes. Mammoth Mountain is popular with skiers and snowboarders in the winter.
The Mammoth Lakes Basin also has more than 50 miles of hiking routes, including a section of the historic John Muir Trail. There are five campgrounds in the basin region, as well as many motels in the nearby town of Mammoth Lakes.
6. Lake of the Ozarks, Missouri
Lake of the Ozarks is a renowned summer vacation spot constructed by damming the Osage River in central Missouri. It is well-known for its boating culture, with speedboats in particular popular due to the lack of horsepower or speed limits on the lake. Fishing is also superb, with bass and catfish being the most common species.
Hiking and bike trails, as well as lakefront golf courses, are available to explore the Lake of the Ozarks from the coastline.
The Old Kinderhook Resort, Golf Club & Spa is a great place to stay. It is well known for its golf course, but the rooms are very nice, and they all have full kitchens.
7. Caddo Lake State Park, Texas
The gorgeous scenery of Caddo Lake will make you take a second look. This state park on the Texas-Louisiana border is lined with tall bald cypress trees that drip with Spanish moss, making it the kind of lovely setting you'd envision for the setting of a romantic novel or film.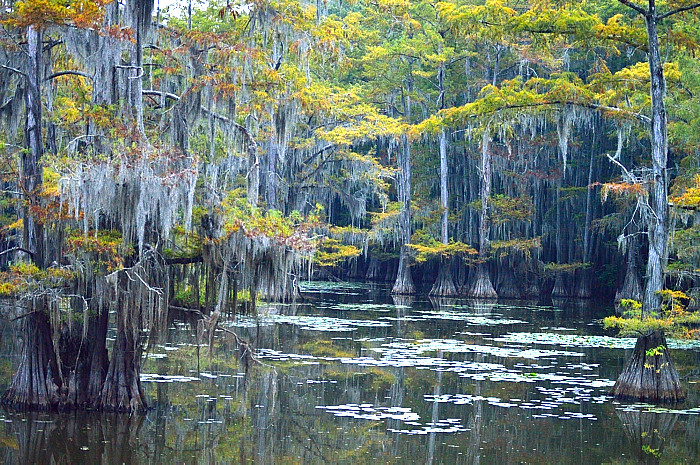 To get a closer look at these natural treasures, tourists should first rent a boat or kayak. More than 50 miles of paddling paths wind their way through the park's sloughs, bayous, and ponds, allowing plenty of opportunities to take in the breathtaking landscape. Other activities include fishing (about 70 species of fish are found here) and short excursions through the forest surrounding the lake. With the exception of cottages and campsites, the park's lodging choices are minimal.
Also Read: 10 Reasons Why You Should Travel Alone