The hospitality industry is no stranger to change and adaptation, but in recent years, a fundamental shift has taken place. Sustainability has emerged as a cornerstone of modern hotel management, transforming the way hotels operate, from energy consumption to waste reduction. In this comprehensive guide, we will delve into the world of sustainable hospitality, exploring what sustainability means in this context, why it is important, and the challenges hotels face in implementing eco-friendly practices.
What is sustainability and why is it important in the hospitality industry?
Sustainability, in the context of the hospitality industry, refers to the practice of conducting hotel operations in an environmentally responsible and resource-efficient manner. It also encompasses promoting social responsibility by supporting local communities and adhering to ethical business practices. Sustainability in hospitality aims to minimise the industry's negative impact on the environment while maximising its positive impact on the local economy and society.
The importance of sustainability in the hospitality industry cannot be overstated. As our world grapples with climate change and resource depletion, the industry's ecological footprint has come under scrutiny. The rapid expansion of hotels and resorts, coupled with the resource-intensive nature of the industry, has led to environmental degradation, such as water wastage, energy consumption, and waste generation. Sustainable hospitality practices offer a way to mitigate these impacts, providing a responsible and ethical approach to tourism.
What are the sustainable practices in the hospitality industry?
Energy Efficiency
Energy efficiency is a fundamental aspect of sustainable practices in the hospitality industry. Hotels and resorts consume substantial amounts of energy to power lighting, heating, cooling, and various amenities. Implementing energy-efficient measures involves the use of advanced technologies and equipment designed to reduce energy consumption. This includes the installation of LED lighting, energy-efficient appliances, and HVAC systems that optimise temperature control. Furthermore, integrating renewable energy sources like solar panels and wind turbines allows properties to generate clean electricity on-site, significantly decreasing their reliance on non-renewable energy.
Water Conservation
Water is a precious resource, and hospitality establishments are increasingly focused on conserving it. Implementing water-efficient fixtures, such as low-flow toilets and faucets, in guest rooms and common areas minimises water usage. Recycling and reusing water through greywater systems capture and treat wastewater from sinks and showers, making it suitable for non-potable uses like irrigation. Encouraging guests to participate in water conservation is another crucial step, often achieved through linen and towel reuse programs, which reduce the frequency of laundry, saving both water and energy.
Waste Management
Waste management strategies in the hospitality industry focus on minimising the environmental impact of waste. Comprehensive recycling and composting programs are integral to this effort, diverting a substantial amount of waste away from landfills. Reducing single-use plastics, such as straws and bottles, is another common practice. Additionally, hotels may implement innovative waste reduction strategies during construction and operation phases. For instance, designing with minimal waste in mind can lead to efficient use of building materials, thereby reducing waste production.
Sustainable Sourcing and Procurement
Sourcing and procurement practices have a direct impact on sustainability. Hotels and resorts prioritise sourcing local and sustainable food products, strengthening connections with the local agricultural community. The goal is to offer guests fresh, authentic, and environmentally responsible dining experiences. Supporting fair trade products ensures that items are produced under ethical and humane conditions, aligning with responsible business practices. Using eco-friendly cleaning products and amenities reduces the environmental impact of cleaning processes, reinforcing an eco-conscious approach.
Building Design and Construction
The design and construction phase of hotels is a critical opportunity for sustainable practices. Using sustainable building materials, such as recycled or reclaimed materials, minimises the environmental footprint. Designing buildings for energy efficiency and water conservation includes features like green roofs and low-impact landscaping, reducing energy consumption and water usage. Certifying new constructions or renovations with eco-friendly standards like LEED demonstrates a commitment to sustainability and helps hotels and resorts maintain responsible operations from the outset.
By adopting these practices, hotels and resorts not only reduce their environmental impact but also align with the values of a growing segment of eco-conscious travellers, setting the stage for a more sustainable and responsible future in the hospitality industry.
What are the benefits of sustainable hospitality practices?
Cost Savings: Sustainable practices, such as energy-efficient lighting and HVAC systems, lead to significant reductions in energy and water consumption. This translates to lower utility bills and operational costs, contributing to improved financial performance.
Enhanced Reputation: Hotels and resorts that prioritize sustainability cultivate a positive image in the eyes of guests and the public. They appeal to eco-conscious travelers who actively seek responsible accommodations. This enhanced reputation can lead to increased bookings and revenue.
Compliance: Sustainable practices often align with local, national, and international environmental regulations and standards. By adhering to these guidelines, hotels can avoid fines and penalties while ensuring that their operations are within the legal framework.
Resource Conservation: Sustainability initiatives actively contribute to the conservation of valuable resources. Water-efficient fixtures, for instance, reduce water consumption, helping to protect this finite resource. Similarly, energy-efficient technologies reduce reliance on fossil fuels, preserving them for future generations.
Reduced Environmental Impact: Lower energy consumption and waste production translate to a reduced carbon footprint. Sustainable hotels emit fewer greenhouse gases and send less waste to landfills, promoting a healthier environment and contributing to global efforts to combat climate change.
Market Competitiveness: In an increasingly competitive hospitality industry, sustainability sets hotels and resorts apart. Eco-conscious travelers actively seek out accommodations that align with their values, making sustainability a powerful marketing tool to attract a specific demographic.
Guest Satisfaction: Eco-conscious travelers are more likely to choose hotels that prioritize sustainability. They appreciate responsible practices and are more inclined to return to or recommend such establishments. Satisfied guests contribute to repeat business and positive reviews.
Employee Engagement: Sustainability initiatives within a hotel can boost staff morale and engagement. Employees appreciate working for a socially responsible and environmentally conscious employer, which can lead to higher job satisfaction and retention rates.
Community Integration: Sustainable hotels often prioritize local sourcing and support local communities. This fosters positive relationships and contributes to the economic wellbeing of the areas in which they operate. Involvement in community initiatives can further strengthen these bonds.
Resilience: Sustainable practices prepare hotels for future environmental challenges and market shifts. By reducing dependence on nonrenewable resources and aligning with the values of eco-conscious travelers, hotels become better equipped to adapt to changing market dynamics and environmental conditions.
Case Studies
To illustrate the practical application of sustainable hospitality practices, we can examine a few successful examples of hotels and resorts that have taken bold steps towards environmental responsibility. These case studies provide insights into the variety of strategies that can be implemented in the industry to embrace sustainability.
1 Hotel South Beach
1 Hotel South Beach, located in the vibrant heart of Miami Beach, Florida, is a luxurious gem committed to sustainability. The hotel proudly showcases its LEED Gold certification, symbolising its unwavering dedication to eco-friendly operations. The utilisation of solar panels for electricity generation is a testament to its energy efficiency. The hotel's waste management system is equally robust, recycling and composting all waste, minimising its environmental footprint.
An emphasis on local and sustainable food products strengthens the bond with the local agricultural community and ensures authentic culinary experiences. With Green Globe and LEED Gold certifications, 1 Hotel South Beach offers travellers an opulent yet eco-conscious retreat, complete with the opportunity for guests to offset their carbon footprint.
Six Senses Zil Pasyon
Nestled on a private island in the Seychelles, Six Senses Zil Pasyon redefines luxury through sustainability. This exceptional resort powers itself entirely through solar panels and wind turbines, a remarkable commitment to renewable energy. The resort addresses freshwater challenges with innovative seawater desalination. What makes
Six Senses truly stand out is its zero-waste policy, recycling and composting nearly all waste. By sourcing local and sustainable food products, it provides authentic dining experiences while supporting the local agricultural community. Green Globe certification and World Travel Awards for Best Sustainable Resort underscore the resort's dedication. Guests are encouraged to offset their carbon footprint, exemplifying Six Senses' commitment to responsible luxury.
Bucuti & Tara Beach Resort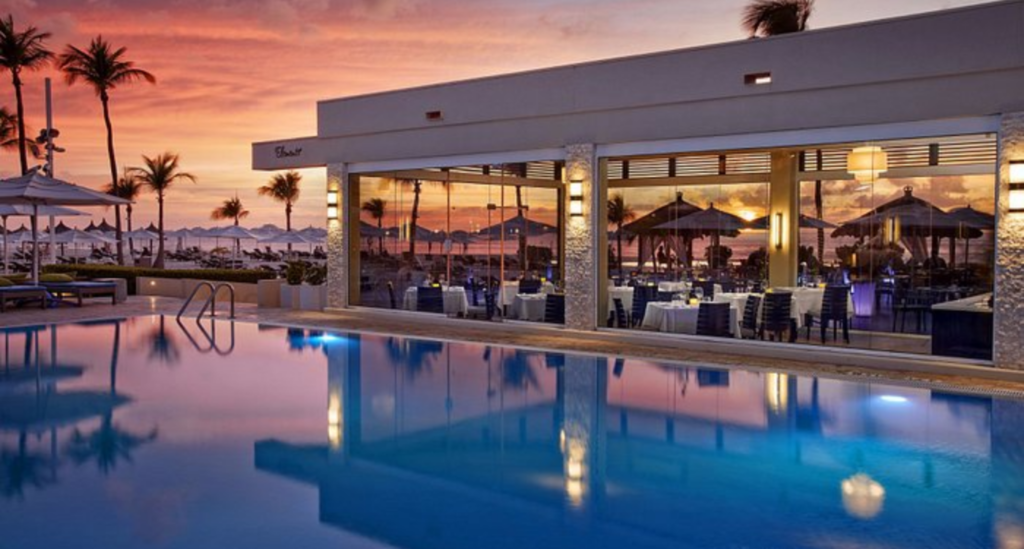 Bucuti & Tara Beach Resort, set against the backdrop of Aruba's natural beauty, has earned the Green Globe certification for its dedication to sustainability. Solar panels play a vital role in the resort's energy efficiency, reducing its carbon footprint and energy costs. Water-efficient fixtures further enhance resource conservation. A robust waste management system, including recycling and composting, ensures responsible waste disposal.
Ethical business practices extend to fair trade products, aligning with responsible and humane values. Bucuti & Tara's commitment to sustainable sourcing ensures authentic culinary experiences while supporting the local agricultural community. With accolades such as the Green Globe certification and World Travel Awards for Best Sustainable Beach Resort, the resort exemplifies eco-conscious luxury. Guests can also offset their carbon footprint, further promoting sustainability.
Triple Creek Ranch
Montana's pristine wilderness is home to Triple Creek Ranch, a luxury resort committed to sustainable tourism. Solar panels play a significant role in energy efficiency, minimising the resort's carbon footprint. Sourcing local and sustainable food products strengthens the local agricultural community and provides fresh dining experiences for guests.
The resort actively participates in conservation programs to protect the surrounding environment. Triple Creek Ranch's unwavering commitment to sustainability has earned it the Green Globe certification and the World Travel Awards for Best Sustainable Green Hotel. This luxury ranch resort harmonises responsible tourism with opulence, setting a high standard for eco-conscious travel.
Soneva Fushi
Soneva Fushi, a luxurious resort in the Maldives, is powered entirely by 100% renewable energy. It has a stringent zero-waste policy, recycles and composts all waste, and actively supports local communities. The resort showcases solar panels and wind turbines as sources of electricity, eliminating the need for non-renewable energy. The zero-waste policy ensures responsible waste disposal, diverting almost all waste from landfills. Sourcing local and sustainable food products not only guarantees fresh and authentic dining but also supports local agricultural communities.
Conservation initiatives protect the surrounding environment. Green Globe certification and World Travel Awards for Best Sustainable Luxury Resort validate Soneva Fushi's dedication to sustainability. Guests have the opportunity to offset their carbon footprint, further reinforcing its commitment to environmental responsibility. This luxury resort serves as a beacon for sustainable tourism, merging opulence with ecological responsibility.
Conclusion
Sustainability in the hospitality industry is more than just a trend; it's a fundamental shift towards a responsible and ethical way of conducting business. By embracing eco-friendly practices in energy efficiency, water conservation, waste management, sourcing and procurement, and building design and construction, hotels can minimise their environmental impact, reduce operational costs, and attract a growing market of environmentally conscious travellers.
While the challenges of sustainability are real, with the initial investment, resistance to change, and complex regulations, the benefits far outweigh these obstacles. Sustainable hotels not only stand to gain a competitive edge but also contribute to a more responsible and ethical industry.
In a world where climate change and resource depletion pose significant challenges, the hospitality industry has an important role to play. As travellers seek authentic and environmentally responsible experiences, hotels that prioritise sustainability are well-positioned to thrive and lead the way towards a more eco-friendly future. In the journey towards sustainability in the hospitality industry, every hotel that embraces green practices brings us one step closer to a more sustainable and responsible world.