When it comes to exploring the wonders of the world, one often thinks of grand palaces, towering monuments, and lush landscapes. But beneath the Earth's surface, there lies an entirely different world of awe-inspiring beauty and spirituality. Cave temples, carved into the rocky embrace of our planet, have stood the test of time as both architectural marvels and sacred sanctuaries. In this exploration, we invite you to discover the top 10 cave temples from around the globe, each a unique masterpiece of history and devotion.
Ajanta Caves, India
Our journey begins in the heart of India, in the state of Maharashtra, where the Ajanta Caves stand as a testament to ancient artistry and faith. These 30 rock-cut Buddhist cave monuments date from the 2nd century BCE to about 650 CE. As you step into these caves, you'll be greeted by some of the finest examples of Indian art, particularly painting. The intricate frescoes and sculptures here not only depict the life of Buddha but also reflect the spiritual fervor of the monks who created them. In recognition of their cultural significance, the Ajanta Caves have been designated as a UNESCO World Heritage Site since 1983.
Ellora Caves, India
A short journey from Ajanta, we arrive at the Ellora Caves, another magnificent complex of rock-cut cave temples in India. These caves, dating from the 6th to 10th centuries CE, are a striking testament to religious diversity and tolerance. What sets Ellora apart is its embrace of three major religions: Hinduism, Buddhism, and Jainism. The intricate carvings and sculptures in these caves depict the essence of these faiths and the remarkable religious harmony that once prevailed. As a result, the Ellora Caves are considered one of the world's most important examples of religious coexistence and have captured the interest of visitors worldwide.
Mogao Caves, China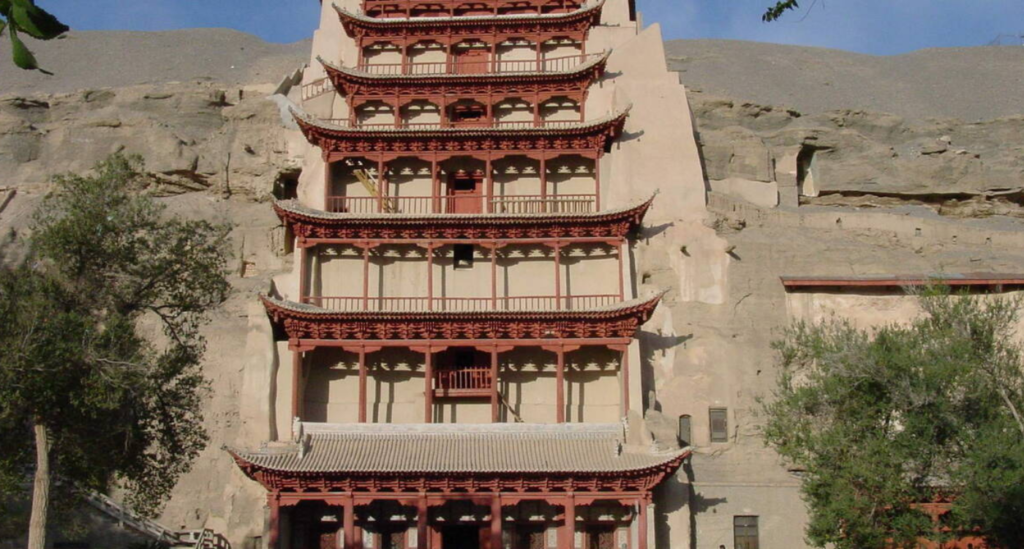 Our next stop takes us to China, where the Mogao Caves are a complex of over 490 Buddhist cave temples near Dunhuang. These caves, with a history spanning from the 4th to the 14th centuries CE, are a treasure trove of Buddhist stories and teachings. The murals and statues within these caves number over 45,000, creating a vivid and immersive narrative of Buddhism. Each cave is a unique work of art, and collectively they are a UNESCO World Heritage Site, preserving this cultural and spiritual legacy for generations to come.
Longmen Grottoes, China
In China, the Longmen Grottoes await, just south of the city of Luoyang. This complex of over 100,000 Buddhist cave temples is a testament to the enduring spirit of devotion. Carved from the 5th to the 8th centuries CE, these caves house over 130,000 statues and 2,300 inscriptions. The exquisite artistry displayed here reflects the devotion of the ancient monks and artists. Visiting these caves is akin to stepping back in time, surrounded by an array of historical and religious significance.
Batu Caves, Malaysia
We now journey to Malaysia, where the Batu Caves are a natural wonder turned into a religious site. Located just north of Kuala Lumpur, these limestone caves are home to a series of Hindu temples and shrines. The grand entrance, with its towering golden statue and vibrant staircase, leads to a network of caves adorned with statues and religious symbolism. Batu Caves has become not only a place of worship but also a popular tourist destination, where spirituality meets the magnificence of nature.
Lalibela Rock-Hewn Churches, Ethiopia
From Southeast Asia, we venture into Africa, where the Lalibela Rock-Hewn Churches are located in the town of Lalibela in Ethiopia. Carved out of the rock in the 12th and 13th centuries CE, these 11 monolithic churches are considered one of the most important examples of Ethiopian Orthodox Christianity. The craftsmanship and religious fervor that led to their creation are evident in the intricate details of the structures. Each church tells a story of devotion and commitment, making Lalibela a unique pilgrimage destination for the faithful.
Matera Sassi Cave Dwellings, Italy
In Italy, the Matera Sassi Cave Dwellings offer a glimpse into a different way of life. These over 9,000 cave dwellings, dating back to the 9th century CE, were inhabited until the 1950s. What was once a testament to human resilience has now become a UNESCO World Heritage Site and a sought-after tourist destination. These dwellings, hewn into the rock, tell a story of survival and adaptability, offering visitors a unique journey through history.
Göreme Open Air Museum, Turkey
In the enchanting town of Göreme, Turkey, we find the Göreme Open Air Museum, a UNESCO World Heritage Site. This museum comprises a collection of rock-cut churches and monasteries that date from the 10th to the 13th centuries CE. The delicate frescoes and religious symbolism that adorn these structures create an intimate connection to the religious and artistic history of the region. Visiting the Göreme Open Air Museum is akin to stepping into a bygone era, where devotion met artistic expression.
Ivanovo Churches, Bulgaria
Bulgaria reveals its rich history through the Ivanovo Churches, a complex of rock-cut churches and monasteries located in the village of Ivanovo. These churches, dating from the 13th and 14th centuries CE, are known for their well-preserved murals, providing a window into the religious and artistic heritage of Bulgaria. Visitors are transported back in time, where devotion and creativity converged.
Cappadocia Cave Churches, Turkey
Our final destination takes us back to Turkey, to the enchanting region of Cappadocia. The Cappadocia Cave Churches, dating from the 4th to the 13th centuries CE, are renowned for their unique "fairy chimney" rock formations. These natural wonders provide the backdrop for the rock-cut churches and monasteries that grace the region. The Cappadocia Cave Churches are not just a place of religious significance but a meeting point of history and nature.
Conclusion
Cave temples around the world offer a unique blend of history, artistry, and spirituality. Each of these remarkable sanctuaries takes visitors on a journey through time, faith, and culture. Whether you seek architectural wonders, historical enlightenment, or simply a spiritual connection, these cave temples have it all. They serve as a testament to human ingenuity, devotion, and a profound connection to the Earth's core. Exploring these remarkable sites is not just a journey through caves; it's a journey through the human spirit and the power of devotion and artistry. Discover the wonders hidden beneath the Earth's surface and embark on a journey that transcends time and borders.