But there is another aspect to the Indian railways. These luxury trains of India will redefine happiness and promise you extravagance worth every penny. 
1. The Deccan Odyssey
The Deccan Odyssey was started to boost tourism along the Maharashtra route of the Indian Railways. It was based on the model of 'Palace on Wheels', one of the first luxury trains of India.
The Deccan Odyssey offers six exclusive packages for its guests across the tourism hotspots of India, including the Deccan Plateau and Gujarat. 
Each coach is beautifully designed in a Deccan dynasty style like in Kadamba, Hoysala, Chalukya, etc, and comes equipped with a personal attendant, attached bathroom, and air-conditioning.
The presidential suite costs more than 10 lakh rupees for a period of 7 nights and 8 days. 
2. Maharajas Express
Maharajas Express is one of the best luxury trains in the world owned by the Indian Railway Catering and Tourism Corporation (IRCTC).
The train has its main center in Rajasthan and travels across 4 routes in northwest and central India, covering more than 12 destinations.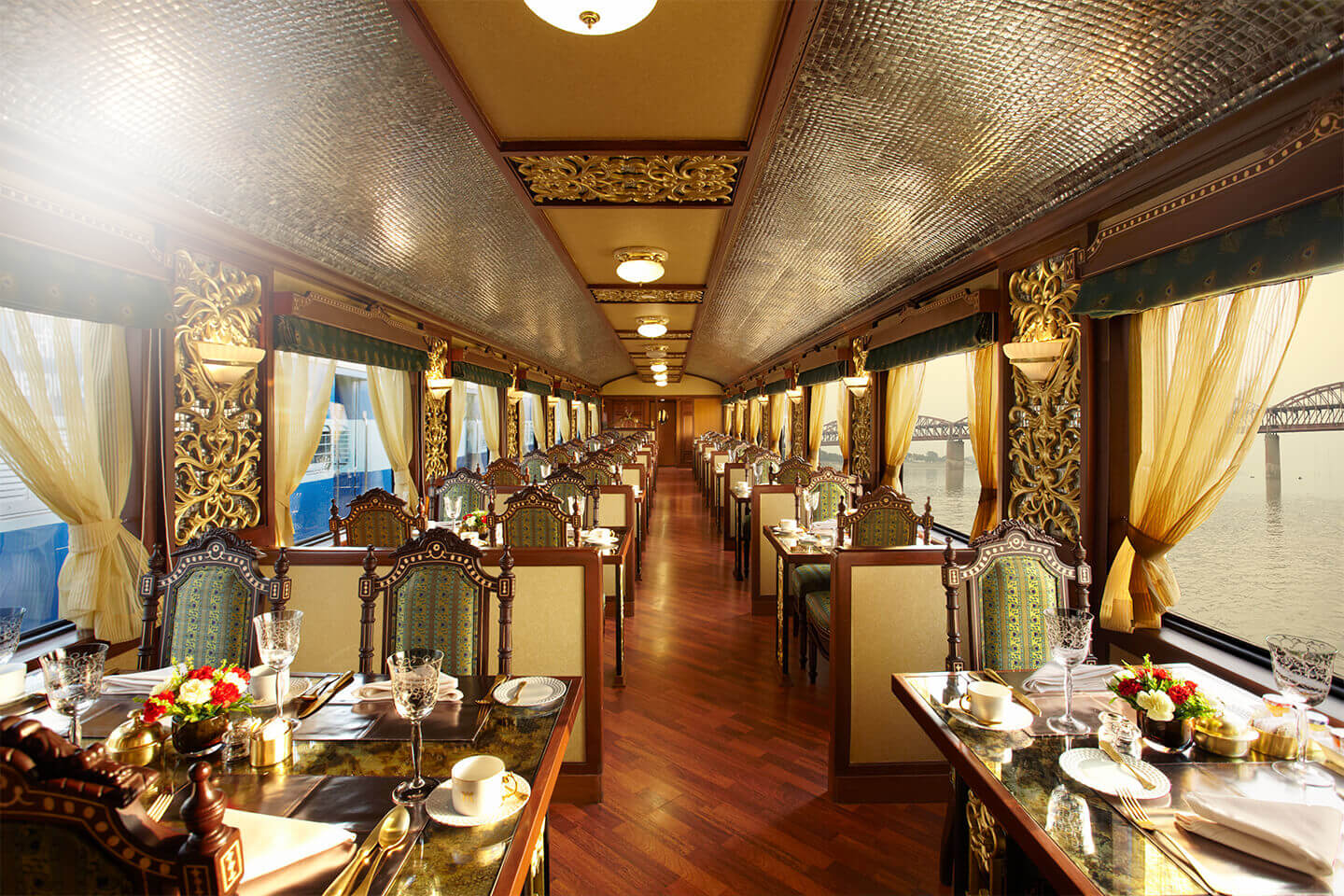 The Maharajas Express has been crowned as the World's Leading Luxury Train at the World Travel Awards seven times in a row from 2012 to 2018. 
It has presidential, express, junior express and deluxe express suites all fit for royalty. Plush cabins and beautifully decorated lounge bars and restaurants as well. The journey's duration is 6 nights and 7 days and the price of its presidential suite is 16, 87,000 rupees.
3. Palace on Wheels
The Palace on Wheels was one of the first luxurious trains in the world. It was started on 26th January 1982.
The concept of this luxury train came from the personal royal coaches that were built for the rulers of the princely states of Rajputana, Baroda, the Nizam of Hyderabad, and mainly the Viceroy of British India.
It was launched in association with the Rajasthan Tourism Development Corporation to promote tourism in the state.  
Palace on Wheels luxury train in India covers the best of Rajasthan, Goa, Delhi, Kerala, Agra, Mumbai, heritage sites, and historical monuments among others. The price for a single ticket is 64,600 during the peak seasons. 
4. The Golden Chariot 
The Golden Chariot is one of the newer trains added to the list of India's luxury trains list.
The train will take you across the most scenic destination of South Indian states of Karnataka, Kerala Tamil Nadu as well as Pondicherry. The name is inspired by the Golden Chariot of Hampi, a destination on the itinerary. 
The coaches of the train resemble the actual living rooms of kings and rulers. The Cabins come equipped with LCD TVs, writing desks, wardrobes, attached bathrooms, and a personal attendant.
The coaches also serve a multi-cuisine meal and a fine range of wines on board as well. The price of the ticket per person per night is 87,000 rupees and 50,000 if there is double occupancy.
Also Read: 5 Best Luxury Hotels in Madrid