The overturning of Roe vs Wade in  June 2022 by the Supreme court send shockwaves in the States and the hospitality industry is no exception. Around 56 % of the leisure travel in the tourism industry is women, making them a group too important to be overlooked. With women earning more than men under the age of thirty, it is growing in 22 metropolitan cities, so it is said to be their consumption expenditure in the industry.
But one conclusion can be drawn is that women travellers are subtly leading change in the hospitality industry. 
However as many states are putting their different abortion bans and laws, women are making political choices and planning their travelling accordingly and taking the hotel's policy into consideration before anything. This has prompted the hospitality industry nationwide to reevaluate its mindset and adopt an environment which is appealing to women travellers.
Hotels though have begun the practice of providing women guests with l basic amenities like tampons, and sanitary pads besides age-old beauty products, as nice as it is, it's not bringing a major change.
Christine Casaline is a Boston-based solo traveller who has quite an insight regarding the treatment of women guests and how she picks up the one hotel among bajillion options. according to her, the number one thing she looks for is the welcoming culture of the accommodation in question.
After reading and listening to countless reports on the issue that just because women were drinking and dining alone, the hotel staff and workers perceived them as sex workers, she decided to wisely spend her time and money on choosing accommodation less sexist. "I choose to support smaller boutique or historic hotels that break the cookie cutter mould of corporate hotels," said Casalini, who also avoids places which don't support the rights of LGBTQ and women. 
Hotel Zena in Washington DC which proudly claims to take its name from the mythical princess Zena,  is leading the walk of changing environment. the general manager of Viceroy Hotels and Resorts, Sherry Abedi said "Everything from the name to the hotel's 60 original artworks was specifically selected to celebrate female empowerment and inspire and ignite conversation," 
The hotel also decorated its walls with the portrait of the late Ruth Bader Ginsburg, U.S Supreme court Justice, which was actually made with 20,000 hand-painted tampons.
The curving wall of the hotel stands tall bearing 8000 protest buttons, bringing light to significant events of history where women were in lead. We don't shy away from showing our support to underrepresented groups," said Abedi. Zena also sponsors programs like an event it hosted to celebrate Women's Equality day on August 26th where female leaders from various industries like art, music, food and beverages, interacted with members of the public.
Another example of how the hospitality industry is moulding itself to cater needs of women is 21C Museum Hotels. They are a boutique group which owns properties in many states which have now adopted strict measures against abortion, making it almost illegal.  The hotel in the states of Kentucky,  Oklahoma, Arkansas, and Tennessee, maintain their belief of no restriction on freedom of speech and thought.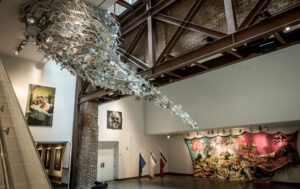 The hotel's property in Louisville debuted on November 2016, The Future is Female exhibit,  which coincided with the presidential elections. This exhibit has now even expanded its scope to include a diversity of artists, geographies and demographic Alice Gray Stites, museum director and chief curator said"There are now artists included in the exhibition who identify as male, non-binary, and trans. There is a deeper exploration of gender fluidity than in earlier iterations,".
She further added that up to 100 new pieces have been added to expand which is a great number considering it started at just two dozen. Many people of different ideologies and beliefs might get turned off by the beautiful and brave statement but Alice Stites believes that every art piece makes a statement of its own and which is different for every other individual viewing it.
"My hope is that the breadth of ideas addressed in the exhibition reflects a broad interrogation, rather than making a declarative statement. We anticipate that not every visitor will like every artwork or exhibition, but we don't assume or predict what people will feel or think," she also added "And we do change the exhibitions, offering new experiences to our guests and the public."
 While Christine Casalini really appreciates this approach to the hospitality industry,  like the 21C exhibit or Zena, 'd curve wall with badges,  she is sceptical about whether it is bringing any change and helping women,  moreover have a believes that hotels are creating a sceptical while capitalizing on the movements like pride month and women's history month. This can be seen, when in the event to honour female musicians like Rihanna and Lady Gaga, the Virgin Hotel in Nashville hosted brunches
. Christine believes that the pursuit of party and luxury events by hotels must be interchanged with an actual meaning full approach whose emphasis is on culture and education and the Ace Hotel chain is inculcating that in its belief system. A film festival was organized last month in one of the hotel's properties in Los Angeles, which celebrated the works of female directors and the proceedings when to SIECUS which is an organization that promotes sex education. 
Since the overturning of Roe vs Wade, women travellers want to be aware of the stance of the hospitality industry on reproductive rights but very few industries openly claim their beliefs. Yale hotel in Yale and her general manager Shelley O'Brien is one of the few to openly support women as they offered women seeking abortion in her state a free stay, even before the overturning of Roe vs Wade.
This does shed light on medical tourism which has driven travellers to visit different destinations across the world and is seen in the case of Yale hotel, whose supporters towards women will invite more female guests. Many in the hospitality industry might adopt these practices but whether the reason is money or genuine interest in women's reproductive rights is yet to be observed.