As far and wide as our borders extend, so do our flavors and dishes. It is undoubtedly gastronomic heaven when it comes to food.
The different forms of Indian cuisine provide a paradise for all types of food aficionados.
Though each city gives its unique touch to a dish to make it a little different, there are some places in India that are loved by all the foodies unanimously.
Here are 5 such cities that are famous for these local and exotic foods.
1. Delhi
Popular as the "Food Capital of India" Delhi offers you appetizing meals and snacks. The street food can vary from the ubiquitous gol-gappas to Indianized versions of continental dishes from Italy, China, Mexico, etc.
From roadside stalls and walled cafes to high-rise restaurants, you can enjoy a multitude of gastronomical delights while visiting some of the old Delhi tourist places.
From Chhole Bhature, Buttery Aaloo Parathas to Hot Jalebis and Gajar ka Halwa, Delhi takes your taste buds for a ride.
2.Mumbai
Mumbai is known amongst foodies as the place with the best street food. The place is the most famous for Vada Pav and Pav Bhaji.
You can happily tuck into street food fare such as bhelpuri, and Sev puri, without having to stress over how much it's gonna cost you. These food items are freshly cooked, stomach-filling, scrumptious, and easily available.
In addition, there are numerous cafes and restaurants where you can sip Irani chai, gorge on Chinese food, and try out other Continental cuisines.
3.Lucknow
The city of Nawabs is famous for its Kebabs. This place should be on every traveler's list who wants to taste delicious Mughlai and Awadhi food.
From Tunday Kebab, Gulauti Kebab, Mutton Biryani to Nihari and spicy Qormas, this place is a heaven for nonvegetarians.
You can splurge on rich, malaai kulfis and world-famous Banarasi Paan if you are a lover of desserts.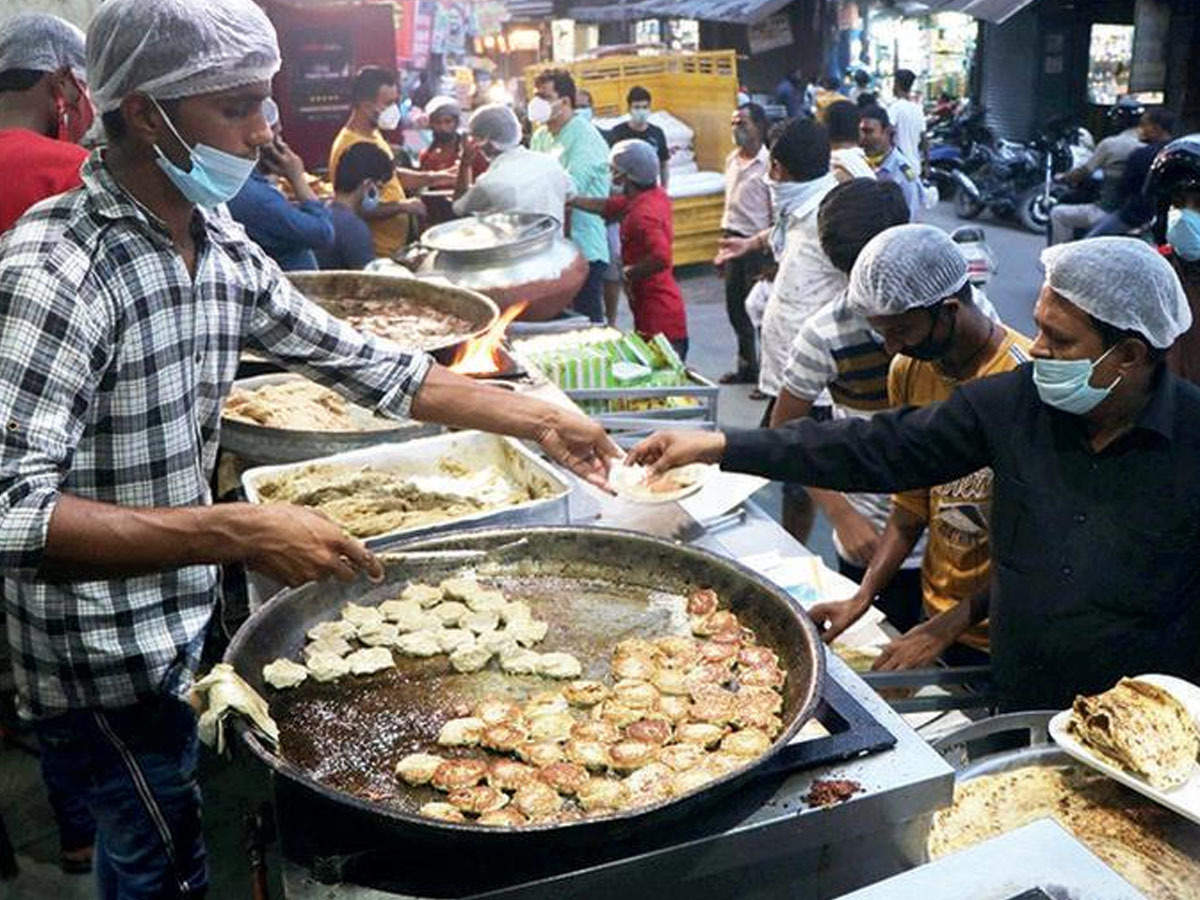 4.Hyderabad
The city famous for its Nizams is a blending point for Turkish, Mughlai, and Andhra cultures.
You would see a lot of rice meat and spices in the local street food. The world-famous Hyderabadi Dum Biryani will light up your taste buds with its amazing spicy flavors.
Here Toli Chowk is particularly famous for its Haleem. The city has a lot to offer for vegetarians as well. The dosas at Govind Bandi with loaded butter are a treat to every foodie. 
5.Kolkata
The 'City of Joy is famous for its desserts and seafood. The staple diet of people here is a lot dependent on fishes.
 From heavenly Kathi rolls and fiery jhaalmuri to succulent Bengali sweets like roshogullas and sondesh, Kolkata offers a never-ending list of the most excellent culinary delights.
Visit the southern avenue to taste the best Puchkas and Chaat in the city. For those with a sweet tooth, Chanar Jalebi at College Street will fulfill you with a two-in-one gulab jamun and jalebi surprise.
Also Read: