Dubai is a place that combines a rich prehistoric legacy with a modern touch of overwhelming and abstract architecture, fine retail centers, and sumptuous accommodations. This rapidly expanding capital of the United Arab Emirates is not just the country's most populous, but also its most affluent. This futuristic but modern metropolis, which boasts a shoreline of immaculate coasts and man-made tropical surroundings, has quickly risen to become one of the world's leading capital cities.
Although the development of this cosmopolitan utopia was initially propelled by its abundant oil reserves, the city's economic prowess is now derived from a diverse portfolio of aviation, real estate, and a rising tourism sector. Every year, millions of people visit the city to see landmarks such as Dubai Creek Park, Dubai Mall, Gold Souk, and, of course, the magnificent and extravagant Palm Jumeirah, which is the world's tallest and most costly resort.
Let's Dive into the List of 7 Best Hotels in Dubai-
1. Burj Al Arab
The Burj Al Arab is the most costly luxury hotel on this list, and it is well deserving of its position. The hotel's sheer distinctiveness is clear from the moment you first see it, as it is designed in the shape of a massive sail that rises over a thousand feet into the sky. It's a magnificent piece of modern architecture. The hotel is lit up in a variety of hues at night, which resonate through the sail-like construction of the building.
The atrium is encircled on both sides by towering golden pillars, adding to the sense of wealth and opulence. The suites have ornate marble and gold stairways, and the beds are set on spinning pedestals so that you can get a 360-degree view of the city.
2. Jumeirah Royal Residences
The Palm Jumeirah, like everything else in Dubai, delivers opulent luxury on a grand scale. With interior elements sourced from the best in the world, luxuriant textures and colours, and even a private beach, it's go big or go home with these huge multi-bedroom mansions. With a selection of villas ranging from Beach, Seafront, and Lagoon Royal categories, all equally magnificent, with Turkish artworks, hand painted frescoes, and beautiful murals, patrons with large wallets may enjoy a wraparound infinity pool and jacuzzi to cool down from the scorching sun.
There are plenty of food options in this slice of heaven, with seven restaurants and two nightlife venues for dinner and a show available to the 38 Royal Residences. With nearly 20 high-end boutiques practically on your doorstep, an opulent Spa, and a fully equipped gym, shopping is a snap.
3. One&Only The Palm Dubai
The hotel One&Only The Palm Dubai, located on the western side of The Palm, is suitable for individuals who respect not only beauty and charm, but also solitude and quiet. The hotel has a sandstone colour scheme and is created in Moorish and Andalusian styles, with a lot of strong geometric designs, as well as lavish fountains, pavilions, and other such elements.
The rooms are decorated with a rich dark wood aesthetic and a cream and bronze colour scheme. Separate installations for rain showers, freestanding baths, and the provision of luxury amenities are featured in the bathrooms, which are tiled in marble from Italy and Spain. The hotel also offers a French fine-dining restaurant with staff members hand-picked from some of Paris' most prestigious Michelin-starred establishments.
4. Coral Boutique Villas
When nothing but the best would do, but you're on a budget. With the Coral Boutique villas, you can enjoy 5 star elegance and luxury without the extras like gold-plated TVs and panoramic city views. The larger homes have up to four bedrooms, two car garages, maid's quarters, and a separate laundry and kitchenette, while the smaller units have one or two bedrooms.
The Mall of the Emirates, Ski Dubai, and the modern Sharaf DG underground station are all close by, while the beach and a water park are just steps away from the villas. An in-house restaurant serving a mix of local and international cuisine, a lounge bar serving light snacks, steam baths, sauna, jacuzzi, various leisure and entertainment pursuits (golf, skiing, horseback riding, etc.), spa, fitness center, WiFi, babysitting services, business services, and dry cleaning/ laundry are among the hotel's amenities.
5. Jumeirah Beach Hotel
Jumeirah Beach Hotel is a five-star luxury hotel which sits on the beach directly across from the Burj Al Arab. This 26-story resort was built in 1997 and is designed to resemble breaking waves, maybe as a complement to the Burj Al Arab. The design is sleek and lovely, but there's nothing particularly "standout" about it. However, one might appreciate the fact that every accommodation offers a view of the sea and the Burj Al Arab.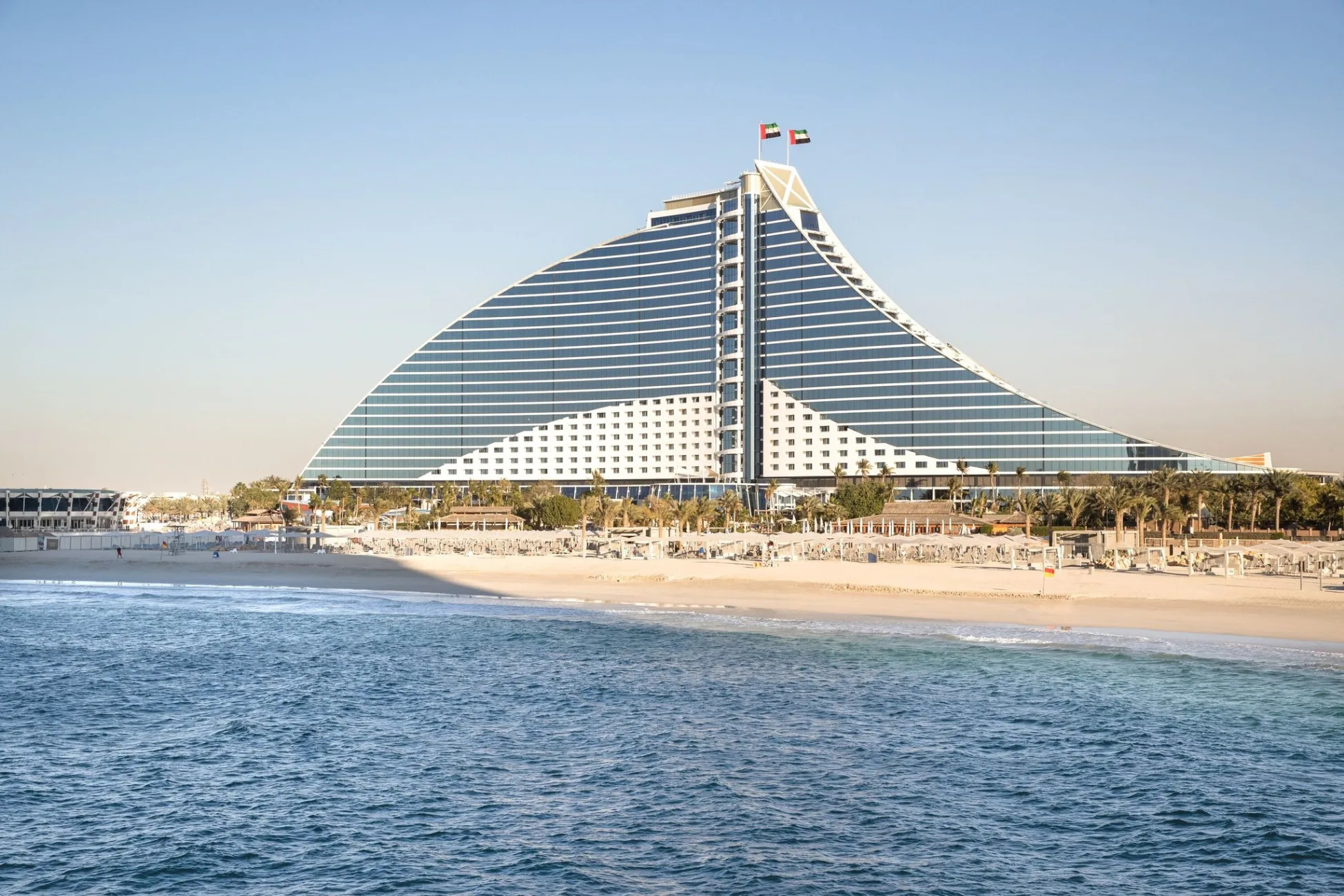 The hotel is created in a sleek and modernist style and offers a variety of amenities, including six on-site swimming pools and a staggering 21 eateries. As a result, you can rest assured that whatever part of the world you're from, or whatever portion of the world you'd like to sample, you'll have access to it all.
6. Raffles Dubai
The Raffles Hotel is a premium hotel which is strategically located in Oud Metha, which isn't the most fancy or exciting part of Dubai, but it is extremely well connected and ideal for travelers who prefer a little peace and quiet. The hotel is shaped like pyramids and has an Egyptian theme. As a result, it's not very unique, and it's unlikely to appeal to a wide range of tastes. However, the ornate, detailed, and lavish interiors more than make up for the drab façade, with ottoman-style sofas and other furnishings that transport you to ancient Egypt.
The rooms aren't as themed, and all guests have access to a butler service 24 hours a day, seven days a week. The Penthouse Suite, which has some charming Oriental touches, is one of their most contemporary-looking accommodations. The hotel also has a lot of handcrafted touches, such as the mashrabiya method utilized on the bathroom doors and shutters.
7. Armani Hotel Dubai
This world-famous luxury hotel, named after the iconic fashion designer, is located in Dubai's cultural core, Burj Khalifa. The boutique hotel is located on multiple levels of the landmark structure, is conveniently connected to the Dubai Mall, and offers views of the Dubai Fountain, Dubai Opera House, and Souk Al Bahar. The hotel was created by Giorgio Armani himself, and is hence stylish and minimalist in style.
The hotel's design incorporates bright lighting, natural and neutral tones, and clean lines, all of which contribute to the hotel's attractive and dignified ambiance. An arrow-shaped pool, a luxury spa, a sun trap patio, and calming continuous music help to drown out the sound of incessant construction, which has become white noise in Dubai by now.
Also Checkout: 5 Most Luxurious Hotels in Thailand