Luxury is our love language: Four seasons re-launched the brand with a vibrant and refreshing perspective on the luxury experience. On the 29th of August,  Four Seasons Hotels and Resorts revealed to the world its glorious new brand creation, Luxury is Our Love Language.  Here, at hospitality daily, our love language is bringing you the best of hospitality,  so let's see what the luxury hotel brand is up to.
Through this campaign, Four Seasons is trying to capture people's interest in attempting to establish itself as a Luxury brand whose priority is not to maintain the luxury and attract the rich and wealthy but it is a brand that genuinely cares for its guests and communicates it through its language of luxury. The campaign is telling stories of guests and their personalized experiences. The whole campaign reflects the theme of eating a dish cooked by your mother, which would bring you comfort and warmth, on a golden diamond-encrusted plate. This multi-million dollar campaign is Four Season's largest investment in media but also the first instance of this much investment made for rebranding.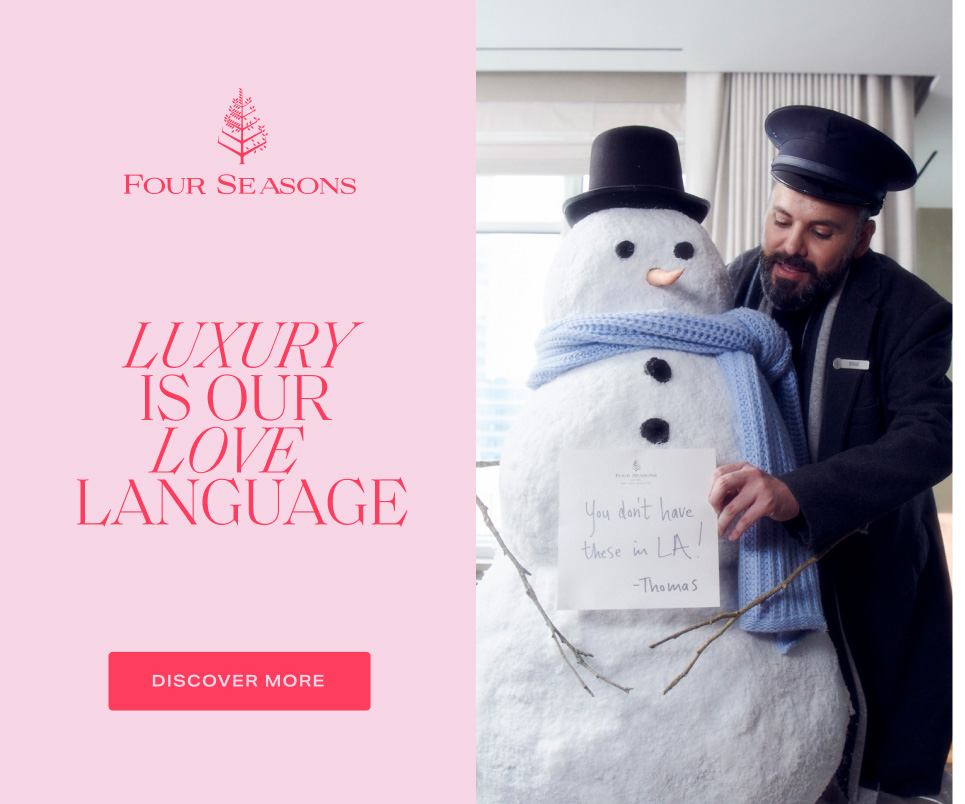 This platform was developed by an NYC- based creative collection, by Publicis Groupe's, Le Truc. It was a collaborative project, where Four Seasons, Le Truc, Starcom, Public's Canada, and Haweye Canada. This rebranding comes with the message that Four Seasons really wants you to know- the platform is delivering an exceptional extravagant experience because it understands the taste of its guest.
The extravagant platform is designed to serve as a complete 360 platform for the brand's creative re-launch. The platform aims to debut Four Seasons' new branding which would cover the entire brand's portfolio and lines of business. It would rebrand Four Seasons Hotels and Resorts, Restaurants and Bars, Residential, Retail and Private Jet over the next year.
The creative platform was developed by a complete comprehensive analysis of Four Seasons guest feedback and insights about their experiences at Four Seasons. The spots are "based on a true stay" which was Inspired by guests' experiences,  reflected in feedback surveys,  and through tribal conversations that guests had with members of hotel teams during their stay.
These spots tell stories and capture the moment when the diligent Four Seasons team proved to be loyal to their oaths of service and conducted their duty with generosity,  kindness and care for guests to enjoy a personalized experience.
This glorious rebranding campaign was shot with the collaborative efforts of acclaimed director Akinola Davies Jr. along with Le Truc and Four Seasons. This campaign consists of many delightful, artful and personalized features like "First Snow, "Based on a true stay" reflecting the magic of winter to the guest.
Another feature, "Special Delivery " which shows a budding equestrian whose dream is about to come true and another feature "Monogram"  showing that how a guest's personal logo was elevated to a new level and that a guest at The Surf Club located in Miami was recognized by staff for wearing: El Tigre" and then offer him custom perks by giving an El Tigre bathrobe.
These features in the campaign are there to reflect the message that Four Seasons may be luxurious and extravagant but it's nothing without its guest and they are willing to prove it in every instance. 
The media strategy led by Starcom is focused on the use of digital video, social and digital out-of-the-home features. It has a collaboration with Vogue near New York Fashion Week( NYFW). 
Here are some words of creators and collaborators:
"Four Seasons is an iconic brand synonymous with luxury. Our role was to reimagine how to convey their unique approach to hospitality – in a modern fashion. Throwing aside the tropes of old luxury and capturing the thoughtfulness that elevates guests' experiences above the standard of luxury they might expect from other high-end hotel brands. But in a totally unexpected manner," said Andy Bird, Founding Partner and Chief Creative Officer, Le Truc.
"We worked really closely with director Akinola Davies Jr. who brought to life the style and modernity that the Four Seasons properties have in abundance. We really wanted people to reappraise what luxury looks like in a hotel, and hopefully, we've achieved that." "The future of luxury will be driven by data and insights and defined by human connection and imagination," said Marc Speichert, Chief Commercial Officer at Four Seasons.
"Luxury Is Our Love Language is the embodiment of this vision and an authentic articulation of our values as we continue to evolve and express our brand in new ways. It is a bold creative platform based on our belief that true luxury shouldn't be impersonal or rigid– rather, it's about creating a meaningful sense of belonging through acts of unscripted care and the simple elegance of empathy."
 Speichert continues: "Le Truc used data and insights from guest stays to spotlight acts of unparalleled hospitality in action, and the 'Based on a True Stay' spots represent a refreshingly creative portrayal of our renowned brand of luxury with genuine heart."We are proud to partner with Four Seasons on the brand's new creative platform, using data-led creativity to create truly personalised luxury experiences.
Le Truc's vision is to drive creative collaboration and convergence across the most diverse disciplines, enabling modern, desirable and authentic experiences for brands and the consumers they serve," said Arthur Sadoun, Global CEO and Chairman, Publicis Groupe.