Korean food, with its vibrant flavors and rich history, has been gaining popularity in Mumbai's bustling food scene. From sizzling barbecue to comforting soups and delectable street food, the city offers a diverse range of Korean culinary experiences. In this gastronomic journey, we explore the best places to satisfy your Korean food cravings in Mumbai.
Why is Korean Food So Popular in India?
Korean cuisine's growing popularity in India can be attributed to several factors that have contributed to its appeal among Indian diners.
Global Food Trends: The globalization of food culture and the rise of international travel have exposed people to a wide range of global cuisines. Korean food's popularity is part of this global culinary exchange, with Indian diners embracing diverse flavors and textures.
Health and Wellness: Korean cuisine is perceived as a healthy and balanced choice due to its emphasis on fresh ingredients, vegetables, lean proteins, and fermented foods. As health-consciousness grows in India, many individuals are drawn to Korean dishes that align with their dietary preferences.
K-Pop and Hallyu Wave: The Korean wave, or Hallyu, which encompasses Korean music (K-Pop), television, and cinema, has gained a massive following in India. This cultural phenomenon has piqued interest in all things Korean, including its cuisine.
Variety and Flavorful Dishes: Korean food offers a wide variety of dishes, from spicy and savory to mild and comforting. Indian diners appreciate the diverse range of flavors, and dishes like bulgogi, bibimbap, and kimchi have found their way onto the tables of food enthusiasts.
Social Media and Food Blogging: The prevalence of social media and food blogging has played a significant role in spreading awareness about Korean food. Food influencers and bloggers often feature their experiences with Korean dishes, sparking curiosity and encouraging others to give it a try.
Culinary Diversity: Indian cities, especially metropolitan areas like Mumbai and Delhi, are known for their culinary diversity. Residents and visitors seek out new and unique dining experiences, making Korean restaurants a welcome addition to the vibrant food scene.
Fusion Trends: Korean food has seamlessly blended with local flavors in India. Fusion dishes that combine Korean and Indian elements have gained popularity, offering a new and exciting twist to traditional recipes.
Top 6 Places to Go to for Authentic Korean Food in Mumbai
Origami, BKC: A Korean Barbecue Gem
Kick off your shoes and sit tatami-style as we delve into the culinary delights of Origami, a hidden gem in the heart of Bandra-Kurla Complex (BKC). This establishment is renowned for firing up some of the best Korean barbecue in town. The experience here begins with perfectly charred and flavoursome meat slices that set the tone for an unforgettable evening.
While the bibimbap in sizzling stone bowls, fiery jjamppong, and umami jangyun are only some of the offerings, they make Origami an ideal choice for a cosy date night, especially during chilly winter evenings. The supporting cast of kimchi and ssamjang play their part in enhancing the experience, making every bite a delightful journey. Don't forget to wash it all down with a refreshing glass of soju; the portions are generous, and the vibe is inviting.
Sun & Moon, Worli: Exploring Vegetarian Delights
For those looking to explore the vegetarian side of Korean food, Sun & Moon in Worli is the place to be. Start your meal with the indulgent tteok-bokki, a vegetarian dish of stir-fried rice cakes soaked in a spicy broth. The Gimbap-seaweed rice roll, filled with a delicious combination of fish and vegetables, is another tempting option.
However, for pork lovers, the spicy and smoky jeyuk bokkeum is a must-try. The fried chicken at Sun & Moon is also a compelling choice. While the prices may be on the steeper side, the unique dishes and cozy ambiance make it a worthwhile visit. And before you leave, be sure to show some 'finger heart' love and leave comments on their wall, becoming a part of the Sun & Moon experience.
Ginkgo: A Cloud Kitchen Experience
Ginkgo, a cloud kitchen venture by the Kohlis, the owners of the Pritam Group of Hotels & Restaurants, offers a variety of pan-Asian fare, with a standout feature being its Korean bulgogi. Thinly-sliced meat, boldly dressed with a sweet, savory, and spicy sauce, just melts in the mouth.
The zesty and flavorful Korean Spicy Garlic Chicken is another winning option. Don't miss their signature Kimchi Fried Rice for a complete meal experience. The food arrives neatly packed and labeled, and the portions are generous. Keep an eye out for the Ginkgo food truck, bringing delectable Korean delights to different parts of the city.
Seoul Express: A Journey to Seoul
Transport your taste buds straight to Seoul with Seoul Express, a cloud kitchen project by three sisters – Afra, Zeba, and Qaailah. The menu caters to a wide range of preferences, from Korean Fried Chicken to vegetarian Korean temple cuisine.
The star of the show is Dak Gangjeong, crunchy fried chicken glazed with a sticky, sweet, and spicy sauce. Gamja Jorim, garlic chili oil noodles, is another compelling choice, offering a burst of flavors with each bite. Bibim Guksu, a dish of savory noodles loaded with delicious flavors, is a must-try for anyone craving authentic Korean food. Vegetarians have their pick from the sour and spicy kimchi soup, Gamja Jorim with braised potatoes smothered in a delectable sauce, or the hot garlic French fries. Better yet, order all three and savor the diverse Korean offerings.
Heng Bok, Bandra: The Korean Culinary Trailblazer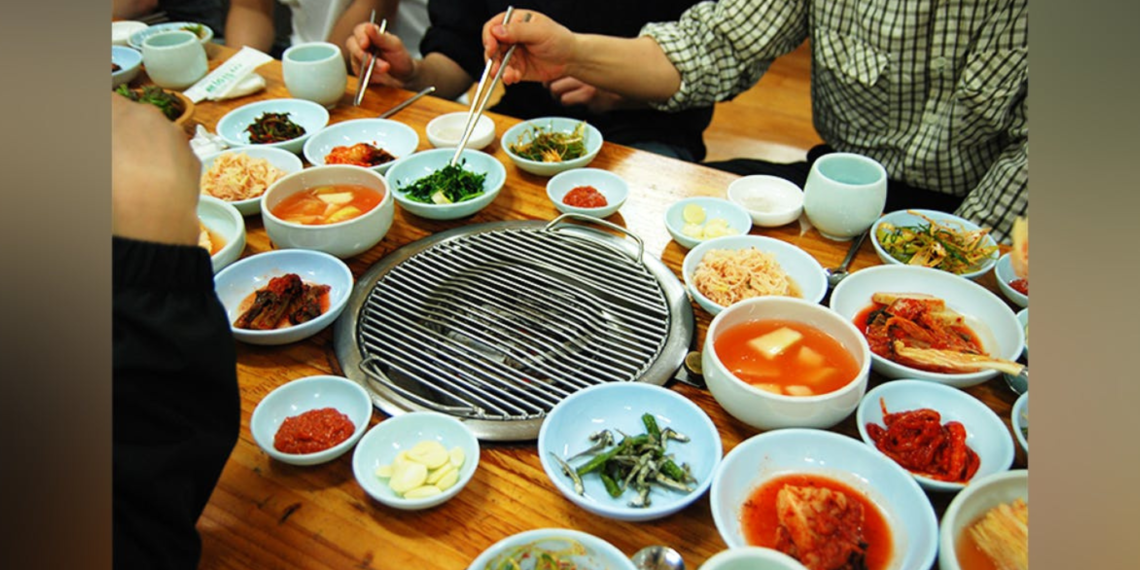 Heng Bok, located in Bandra, is a restaurant that took the Korean food scene in Mumbai by storm when it first opened. The meal at Heng Bok starts with a parade of banchan, or bite-sized appetizers, and then dives headlong into the barbecue experience. Guests have the option to enjoy the perfectly grilled meat as is or the traditional way, smeared in ssamjang, a thick, red, spicy paste, and wrapped in lettuce.
A bottle of Soju pairs perfectly with this culinary journey. For those with room for dessert, the Dolsot Bibimbap, a version of Korean fried rice cooked on the table and served in a stone bowl, is a delightful choice. The treasure lies in the burnt rice at the bottom. Conclude your meal with patbingsu, a Korean shaved ice dessert, for a sweet finish.
Macita Korean Cuisine, Marol: A Hidden Culinary Gem
Macita Korean Cuisine, tucked away in Marol, offers modern Korean dining with a range of delectable dishes. The Cooked Rice in Pork Soup is a soul-warming option that satisfies the senses. The Kimchi Stew, flawlessly executed, strikes the perfect balance between sour and sweet flavors.
For a more comprehensive experience, explore the menu with options like Cold Buckwheat Noodles, Green Onion and Shiitake Mushroom Pancakes, Korean Fried Chicken, and a whole array of gimbaps. While the décor is sparse, it exudes an elegant charm, making every visit a memorable one.
Conclusion
Mumbai's culinary landscape has embraced the diverse and flavorsome world of Korean cuisine. From the sizzling Korean barbecue at Origami to the vegetarian delights at Sun & Moon, and the cloud kitchen experiences of Ginkgo and Seoul Express, there is a plethora of options for those seeking an authentic Korean food experience. Heng Bok, a trailblazer in the scene, continues to impress with its barbecue and traditional Korean offerings, while Macita Korean food brings modern dining to the forefront.
Whether you're a connoisseur of Korean food or a newcomer looking to explore new flavors, Mumbai's Korean restaurants promise a delightful journey through the heart of Korea's culinary traditions. So, the next time you have Korean food cravings, rest assured that Mumbai has you covered.