The world of hotels, restaurants, and bars is not just serving meals; it's orchestrating an epicurean saga, a delightful dance of flavours that tantalize the taste buds and spark culinary curiosity. In this gastronomic odyssey, we uncover the mysteries behind the kitchen doors, where chefs wield creativity like a magic wand, transforming ingredients into edible poetry.
From the sizzling griddles of hotels to the intimate ambience of restaurants and the lively rhythm of bars, something extraordinary is always bubbling, brewing, and bubbling. Join us on a savoury exploration through the latest taste trends, where each bite is an adventure, and every sip is a revelation. Join us in unravelling the secrets of what's cooking in the heart of hospitality's culinary alchemy. Get ready for a journey beyond the ordinary – because in the world of taste, extraordinary is always on the menu.
Health and Wellness
In an era where conscientious eating is gaining momentum, health and wellness have become integral factors shaping culinary innovation. The dining landscape is witnessing a transformative shift toward more mindful and personalized experiences, catering to the growing demand for healthier choices. Let's delve into the nuances of this culinary revolution:
– Plant-Based Evolution
  – Plant-based cuisine is no longer confined to a niche; it has evolved into a flavorful and sustainable alternative embraced by a conscientious consumer base.
  – Restaurants are reimagining traditional dishes, showcasing the versatility and creativity of plant-based ingredients.
– Dietary Diversity
  – There is a notable surge in demand for dietary options catering to specific needs, such as gluten-free and dairy-free choices.
  – Establishments are adapting menus to accommodate diverse dietary requirements, providing inclusive dining experiences.
– Holistic Well-Being
  – Functional foods and beverages are taking center stage, marking a significant shift towards holistic well-being.
  – Menus are curated to offer not just a meal but an investment in patrons' health, emphasizing the nutritional value of each dish.
– Personalized Nutrition
  – Tailored dining experiences have become the norm, ensuring that each dish aligns with individual preferences and nutritional needs.
  – Personalized nutrition extends beyond dietary restrictions, focusing on delivering a dining experience that resonates with each patron.
– Mindful Eating Integration
  – Mindful eating, once considered a niche concept, is seamlessly woven into dining concepts, encouraging patrons to savor each bite with heightened awareness and appreciation.
  – Establishments are incorporating mindfulness practices into the dining atmosphere, creating a more conscious and enjoyable culinary experience.
Sustainability
The green movement has permeated the culinary landscape, with a growing expectation from consumers for more than just a delicious meal. Sustainability is no longer a trend; it's a commitment that establishments are embracing with innovation and dedication:
– Locally Sourced Emblem
  – Locally sourced ingredients have become a symbolic representation of a commitment to both community support and environmental stewardship.
  – Restaurants and bars are establishing partnerships with local farmers and producers, fostering a sense of community and ensuring the freshness of ingredients.
– Zero-Waste Initiatives
  – Kitchens are evolving into hubs of innovation with zero-waste initiatives, where every ingredient is maximized, and waste is minimized.
  – Creative repurposing of food items and strategic planning are reducing the environmental impact of the hospitality industry.
– Eco-Friendly Practices
  – The shift towards eco-friendly packaging and sustainable alternatives to single-use items showcases a heightened awareness of the environmental consequences of dining choices.
  – Establishments are exploring innovative solutions to reduce their carbon footprint, from compostable packaging to environmentally friendly practices.
– Reusable Utensils Commitment
  – The use of reusable utensils and tableware underscores the industry's dedication to reducing its ecological footprint.
  – Establishments are making conscious choices to minimize single-use plastics, promoting sustainability in the smallest details.
Interactive and Immersive Dining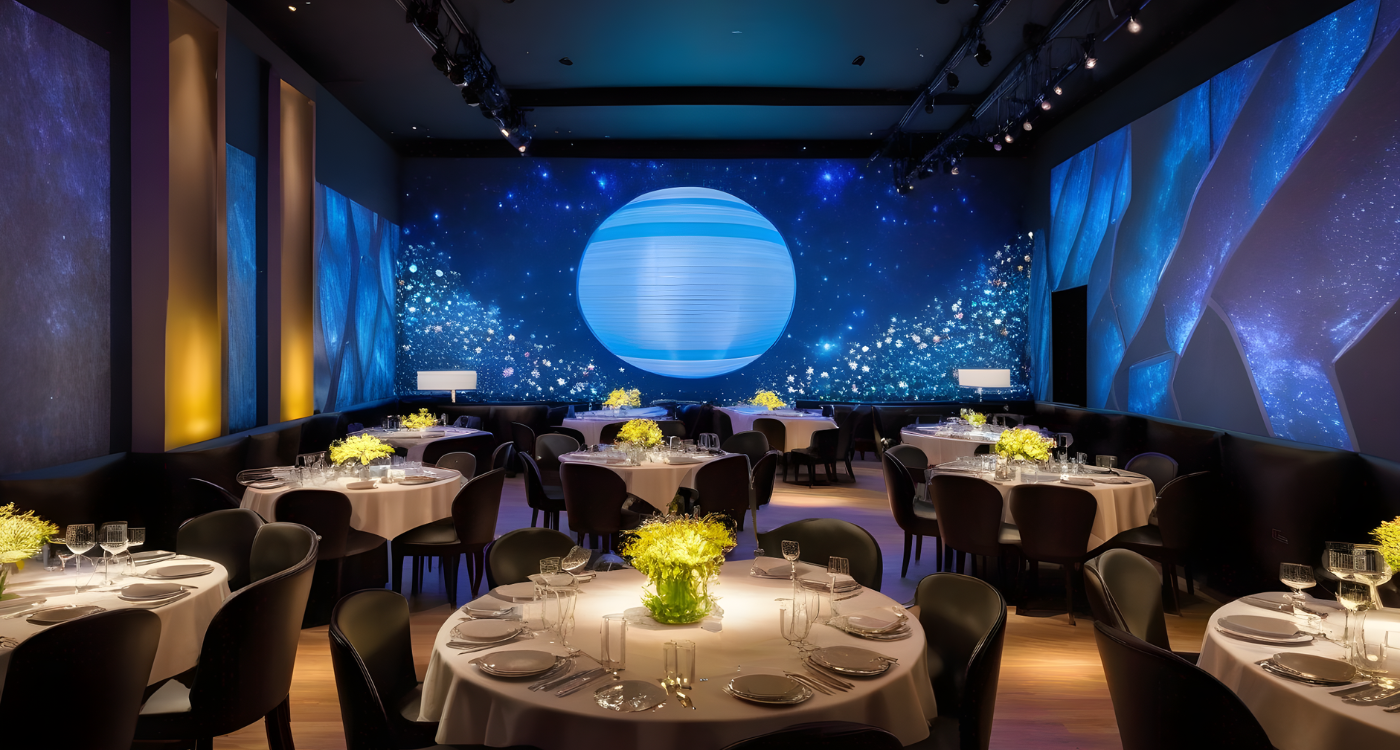 Dining has transcended its passive nature, transforming into a participatory and immersive experience. From chefs' tables to molecular gastronomy, the culinary world is fostering a deeper connection between chefs and diners:
– Hands-On Experiences
  – The rise of chefs' tables, cooking classes, and hands-on dining allows patrons to step into the shoes of culinary artisans.
  – These experiences invite patrons behind the scenes, fostering a deeper appreciation for the craftsmanship behind each dish.
– DIY Cocktail Bars
  – DIY cocktail bars bring an element of playfulness to the dining table, allowing patrons to craft their libations under the guidance of skilled mixologists.
  – The interactive nature of DIY bars enhances the overall dining experience, turning it into a memorable and personalized event.
– Themed Dining Events
  – Themed dining experiences and pop-up events add an air of excitement and anticipation, transforming meals into memorable occasions.
  – Establishments are leveraging creativity to curate themed events that elevate dining beyond sustenance, creating an atmosphere of celebration.
– Multisensory Engagements
  – Multisensory experiences engage all five senses, creating a symphony of taste, smell, sight, sound, and touch that elevates the dining adventure.
  – The integration of sensory elements into dining creates a more immersive and memorable experience for patrons.
Hyperlocalization
Hyperlocalization is a marketing strategy that focuses on tailoring products and services to the specific needs and preferences of local customers in a particular geographic area. It involves understanding the unique characteristics, values, and preferences of the local community and adapting offerings to resonate with them. This strategy aims to create a more personalized and meaningful customer experience, fostering deeper connections with the local community and boosting brand loyalty.
– Storytelling Partnerships
  – Establishments are transforming into storytellers, celebrating the uniqueness of each region through partnerships with local farmers, producers, and artisanal food makers.
  – These collaborations not only support local economies but also ensure the authenticity and freshness of ingredients.
– Cultural Exploration
  – Dining becomes a cultural exploration, offering patrons a passport to the rich tapestry of local identity.
  – Establishments are curating experiences that transport diners on a journey through the heart and soul of the community, creating a sense of connection.
Craft Cocktails and Non-Alcoholic Beverages
The world of beverages is undergoing a revolution, with mixologists and establishments redefining the drinking experience. Craft cocktails and non-alcoholic alternatives are taking center stage:
– Mixology as Art
  – Mixologists, akin to artists, are crafting libations using fresh, high-quality ingredients, elevating the drinking experience to an art form.
  – The craft cocktail revolution emphasizes the importance of quality ingredients and skilled craftsmanship in the creation of beverages.
– Regional Reflections
  – Locally sourced spirits and artisanal liquors showcase regional flavors, paying homage to the heritage of the locale.
  – Establishments are curating beverage menus that reflect the unique tastes and traditions of their local surroundings.
– Wellness-Focused Choices
  – The ascent of alcohol-free mocktails and non-alcoholic beverages reflects a broader shift towards wellness-focused choices.
  – These beverages cater to a broader audience, allowing patrons to indulge in the pleasure of taste without the effects of alcohol, contributing to a more inclusive and diverse beverage landscape.
Conclusion
As our culinary journey comes to a close, one thing is abundantly clear – the future of hospitality dining is a feast of diversity, innovation, and vibrancy. Adapting to evolving tastes, embracing sustainability, and creating immersive experiences are the cornerstones of success. The culinary landscape is not just evolving; it's flourishing, driven by a commitment to providing exceptional experiences. So, let us savor the future, one delicious taste trend at a time, as we continue to explore the endless possibilities that lie ahead in the ever-evolving world of hospitality dining.
In conclusion, these trends in health and wellness, sustainability, hyperlocalization, interactive and immersive dining, and craft cocktails/non-alcoholic beverages reflect the dynamic evolution of the hospitality industry. As patrons seek more than just a meal, establishments are rising to the occasion, creating experiences that are not only delicious but also mindful, sustainable, and deeply connected to local cultures. This culinary transformation is not just a trend; it's a redefinition of the dining experience, where every element, from ingredients to presentation, contributes to a richer, more meaningful encounter with food and beverages.