The hospitality industry has long been marked by its relentless pursuit of excellence and its unwavering commitment to meeting and exceeding guest expectations. In this highly competitive landscape, innovation is not just a buzzword; it's a necessity. As the world becomes increasingly digital, one of the most transformative innovations in the industry is contactless technology. This article explores the profound impact of contactless technology on the hospitality industry, demonstrating how it can elevate your property's guest experience and give you a crucial competitive edge.
What is Contactless Technology and How is it Being Used in the Hospitality Industry?
Contactless technology represents a fundamental shift in how businesses interact with their customers. In the context of the hospitality industry, this technology encompasses a range of innovations aimed at reducing physical touchpoints and enhancing guest convenience:
 Mobile Check-in and Check-out: With mobile check-in, guests can bypass the front desk and proceed directly to their rooms, making their arrival smoother and more efficient. Likewise, mobile check-out allows guests to settle their bills and vacate their rooms without visiting the front desk.
 Digital Keys: Traditional physical keys are becoming obsolete as guests can now unlock their rooms with their smartphones, improving security and eliminating the risk of lost keys.
 Voice-Activated Controls: Cutting-edge smart room technology allows guests to control the room's lighting, temperature, and entertainment systems with voice commands, offering a level of convenience and personalization previously unattainable.
 Mobile Payment: Guests can make payments for their stay, room service, and other amenities through mobile apps, reducing the reliance on cash or physical credit cards and speeding up the payment process.
 Facial Recognition: Some forward-thinking properties have integrated facial recognition technology for secure access and personalised services, further enhancing security and convenience.
Benefits of Contactless Technology for Hospitality Businesses
The integration of contactless technology into hospitality operations brings a host of benefits:
 Improved Guest Experience: The convenience and speed afforded by contactless technology significantly enhance the guest experience. Simplified processes, such as check-in and key retrieval, lead to increased guest satisfaction and positive reviews.
 Increased Efficiency and Productivity: By automating routine tasks like check-ins and key distribution, staff can reallocate their time to more critical guest-facing roles. This not only improves staff productivity but also enhances the overall quality of service.
 Reduced Costs: Automation and increased efficiency translate to cost savings for the property. With fewer manual processes, labour costs decrease, and resources can be reallocated to areas that enhance the guest experience.
 Enhanced Security: Contactless systems often feature robust security measures, reducing the risk of unauthorised access and ensuring the safety of guests and their personal information.
Improved Safety Measures: Contactless technology plays a pivotal role in enhancing safety for both guests and staff. By reducing physical touchpoints and enabling processes such as mobile check-in and digital keys, it minimises the risk of virus transmission, making it a valuable asset during health crises like the COVID-19 pandemic and ensures the industry doesn't get affected. 
Challenges of Implementing Contactless Technology
While the benefits are undeniable, the implementation of contactless technology is not without its challenges:
 Cost of Implementation: Acquiring and installing contactless technology can be a significant upfront investment, which may pose challenges for smaller hospitality businesses with limited budgets.
 Need for Training: Adequate training for staff is paramount to ensure the seamless operation of contactless systems. Staff must be proficient in using and troubleshooting the technology.
 Guest Acceptance: While many guests embrace contactless technology, some may be hesitant to abandon traditional methods. Ensuring a smooth transition and providing support for guests who may be less tech-savvy is essential to maintain guest satisfaction.
Case Studies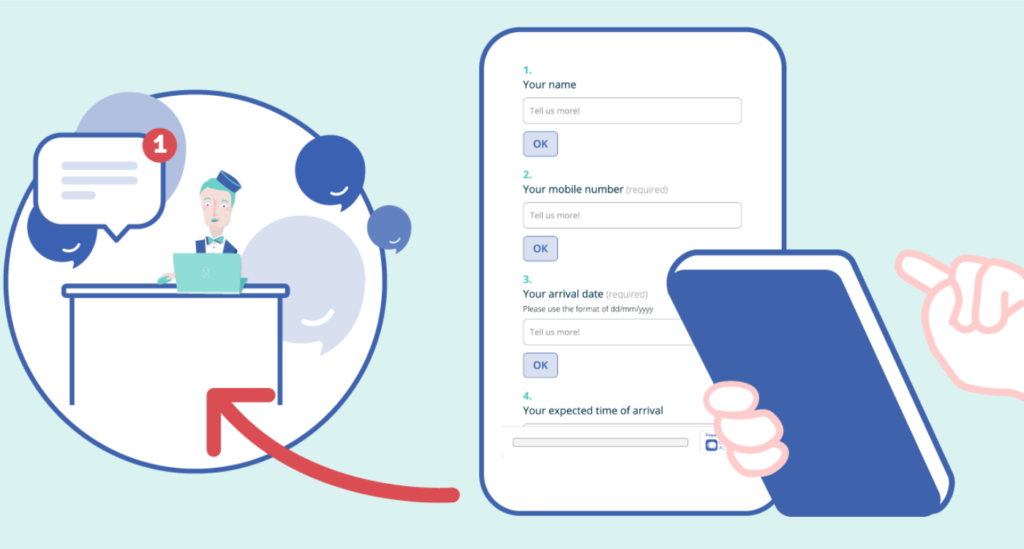 Here are two other case studies of hotels and other hospitality businesses that have successfully implemented contactless technology:
Hyatt Hotels Corporation
Hyatt Hotels Corporation has implemented a variety of contactless technology solutions, including:
Mobile check-in and check-out: Guests can use the Hyatt app to check in and check out of their rooms without having to interact with a staff member.

Digital keys: Guests can use their smartphones as digital keys to access their rooms.

Voice-activated controls: Guests can use voice-activated controls to control their lights, temperature, and TV in their rooms.

Mobile payment: Guests can use the Hyatt app to pay for their stay and other expenses.
Hyatt has also implemented a number of contactless technology solutions in its public spaces, including:
Contactless check-in kiosks: Guests can use contactless check-in kiosks to check in to their rooms without having to interact with a staff member.

Contactless payment terminals: Guests can use contactless payment terminals to pay for food and drinks at Hyatt restaurants and bars.

Self-service bag drop: Guests can use self-service bag drop to drop off their luggage before their flight.
Airbnb
Airbnb has implemented a contactless check-in process that allows guests to access their accommodations without having to interact with the host. This is done through a variety of methods, including:
Smart locks: Guests can use their smartphones or a code to unlock the door to their Airbnb.

Key boxes: Guests can pick up the key to their Airbnb from a key box located near the property.

Lockboxes: Guests can pick up the key to their Airbnb from a lockbox located on the property.
Airbnb has also implemented a number of other contactless technology solutions, such as:
Online payments: Guests can pay for their Airbnb stay online, without having to interact with the host.

Online messaging: Guests can communicate with their host online, without having to call or text them.

Online reviews: Guests can read and write reviews of Airbnb properties online, without having to contact the host.
These are just a few examples of how hotels and other hospitality businesses are using contactless technology to improve the guest experience and increase efficiency. As contactless technology continues to develop and become more widely adopted, we can expect to see even more innovative and creative ways to use it in the hospitality industry.
Future trends
Contactless technology is a growing trend in the hospitality industry, and it is expected to continue to grow in the future. Here are a few future trends to watch out for:
Increased Use of Artificial Intelligence (AI) and Machine Learning (ML)
Artificial Intelligence (AI) and Machine Learning (ML) are poised to revolutionise the hospitality industry by providing more personalized and intuitive contactless technology solutions for guests. The adoption of AI and ML can lead to a host of enhancements in the guest experience and operational efficiency.
 Personalised Experiences: AI and ML algorithms can analyse guest data, including past preferences, behaviours, and demographics, to create highly personalized experiences. For example, AI can recommend room upgrades, dining options, and local activities based on individual guest profiles, leading to higher guest satisfaction and potentially increased revenue.

Contactless Check-in: AI-powered contactless check-in systems have the potential to transform the arrival process. These systems can recognize guests through facial recognition or other means and automatically check them into their rooms, eliminating the need for traditional check-in procedures. This not only enhances convenience but also reduces waiting times and the risk of errors.

Virtual Concierge: AI-driven virtual concierge services can provide guests with real-time information and assistance. Guests can use voice commands or chatbots to inquire about hotel amenities, local attractions, or request services, such as room service or housekeeping.

Predictive Maintenance: AI can monitor the condition of hotel facilities and equipment in real-time. By analysing data from sensors and systems, AI can predict maintenance needs, reducing downtime and ensuring that guests enjoy a seamless and trouble-free stay.
More Widespread Adoption of Facial Recognition
Facial recognition technology has evolved significantly in recent years and is becoming increasingly accurate and secure. In the hospitality industry, its potential applications are vast, contributing to a more streamlined and secure guest experience.

 Guest Check-in: Facial recognition can be used for swift and secure guest check-in processes. Guests can simply walk up to a kiosk or front desk, and their identity can be verified through facial recognition technology, granting them access to their room without the need for physical keys or cards.

 Room Access: In addition to check-in, facial recognition can be used for room access. This eliminates the risk of lost key cards and enhances security by ensuring that only authorised guests can enter specific areas.

Payments and Transactions: Facial recognition can be integrated into payment systems, allowing guests to make secure transactions by simply confirming their identity with their face. This adds an extra layer of convenience and security to financial transactions within the hotel.

 Enhanced Security: Facial recognition can be used to enhance overall security within the property by identifying and tracking individuals on the premises. This can help prevent unauthorised access and improve guest safety.
The Rise of Voice Assistants
Voice assistants such as Amazon Alexa and Google Assistant have gained significant popularity in homes, and their integration into the hospitality industry is an emerging trend. These voice-controlled devices offer guests a convenient and intuitive way to interact with their hotel rooms.

 Room Control: Guests can use voice commands to control various aspects of their room, including lighting, temperature, curtains, and entertainment systems. This hands-free control adds a touch of luxury and convenience to the guest experience.

 Information and Assistance: Voice assistants can provide guests with information about hotel services, local attractions, and dining options. They can also assist with tasks like setting wake-up calls or requesting additional amenities.

 Room Service and Orders: Guests can place room service orders or make requests using voice commands, streamlining the process and reducing the need for phone calls or in-room tablets.

 Personalization: Voice assistants can learn and adapt to individual guest preferences over time, making each guest's stay more tailored and enjoyable.
Conclusion
Contactless technology is not merely a passing trend; it has become an integral part of the modern hospitality industry. Businesses that embrace this technology can significantly enhance the guest experience, boost operational efficiency, and ultimately gain a crucial competitive edge in an industry characterised by fierce competition.
As the hospitality landscape continues to evolve, staying ahead of the curve with contactless technology is essential. By carefully selecting and thoughtfully implementing the right contactless solutions, your property can be better equipped to meet the ever-evolving expectations of your guests, ensuring their satisfaction and loyalty for years to come. In a world where convenience and safety are paramount, contactless technology is the gateway to a more seamless and delightful guest experience, offering your property the means to thrive amidst change and fierce competition.