Whether it is in the fictional world of Harry Potter with the extravagant Hogwarts Express or in some Sherlock Holmes mystery, or in the real world, Train Express routes in Europe always win the race. Not with speed but also with its luxurious, esthetic style and all quintessential features necessary to beat any five-star hotel. 
So here are the five most luxurious train express routes you can give yourself a treat with and
 come aboard the titanic's  of rails, except these won't sink
1. Venice Simplon Orient Express
First, on our list of the luxuries of all the luxuries is the Belmond-owned, world-famous,  Venice Simpson Orient Express. You can imagine the glamour of this train when Agatha Christie's notorious mystery " murder on the orient express " is based on this beauty itself.  begins Your voyage from the platform of a famed European city, where historic carriages wait for your arrival. This extravagant ride was first established in 1982 by James Sherwood of Kentucky, USA, and made its first run from London to Venice. Believe us when we say, it is better than your five-star hotel.
Stay in Air conditioned vintage cabins while enjoying exquisite dining and superlative services while being amazed by 1930s-inspired Art Deco that is world famous and worthy of the title ' orient'. Ravenous from your tour, this Magnificat has Bar cars, Dining cars, a Champagne bar and more for your dining.  
This magnificent beauty's Historic cabins, well twin cabins, are converted from pleasant daytime seating into cosy bedrooms during the night when passengers enjoy their dinner in the restaurant car. Therefore most of the passengers board the train at night from London to Venice. Wake up in your cabin to a cinematic scenery of the Swiss Alps as breakfast is served in your cabin. Then enjoy a leisurely three-course lunch as the train makes its way through beautiful mountains and lakes.
2. Golden Eagle Danube Express
Even though it is a premiere  Russian express, Golden Eagle was launched by UK-based GW Travels in 2007 and in 2015 took operation of Danube Express, becoming the Luxury Golden Eagle Danube Express.  As the name suggests,  this Eagle soars through Central Europe, Eastern Europe and the Middle east. 
This sophisticated beauty would amaze you with a subtle blend of 21st-century technology, decor and fixtures. At once it only carries 64 passengers in its seven sleeping cars and each car has 4 cabins. Four of these cars contain Deluxe cabins and the rest three are superior Deluxe cabins and are furnished with air conditioning, robes, Slippers, towels and luxurious L'occitane toiletries. 
While superior Deluxe cabins are spaced at 93 square feet, Deluxe cabins are also spacious at 83 square feet cabins and all the passengers need to do is sit and relax while attendants take care of everything. Passengers can enjoy exquisite three-course meals on the express, all with wine, set in attractive and comfortable green-cream coloured coded dining cars, ( 2 dining cars) which are equipped to seat 42 passengers each. So welcome aboard on Europe's finest Express providing elegance and style, all quintessential elements of travel.
3. Royal Scotsman
 Want to discover Scottish countryside whilst enjoying a luxurious Downton abbey atmosphere? Then Welcome aboard to Belmond Royal Scotsman, UK's only luxury sleeper train. This Belmond-owned gives competition to luxurious five-star hotels all the while it offers you 2, 3,4,5 or 7-night tours of the Scottish Highlands. 
With no more than 40 guests, this beauty ensures seclusion and comfort. The rich interiors would remind you of the Edwardian era with an elegant lounge and comfortable suites also embracing the essence of the country house weekend while you enjoy the Highland line, views from Findhorn viaduct and aperitifs & canapes. 
The extravagant Express has everything you might need. From the observation car, with the only open observation deck in Europe, you can enjoy the true Scottish beauty. The two dining cars decorated with rich mahogany paintings let you enjoy freshly prepared meals and a special spa car. 
4. British Pullman       
Okay, fine,  another Belmond creation, but see they are the best at this game. The luxurious Belmond-owned British Pullman is extraordinary at best and unforgettable at worst. You really wouldn't want to leave the cabins.
What makes it so extraordinary is that each carriage has a different architectural style, Exquisite marquetry and plush armchairs, while telling their own story. Fun fact, one of the carriages, Zena, was rented so that the movie Agatha could be filmed there. Also, the carriage Persues was used as Winston Churchill's funeral carriage.
It also provides the passengers with a choice of seating- tables or private compartments for one, two or four.
The steam engine would send you back to the British aristocracy period. Enjoy this to  Venice Orient, with a five-course lunch with champagne and a bottle of wine per person. 
5. Northern Belle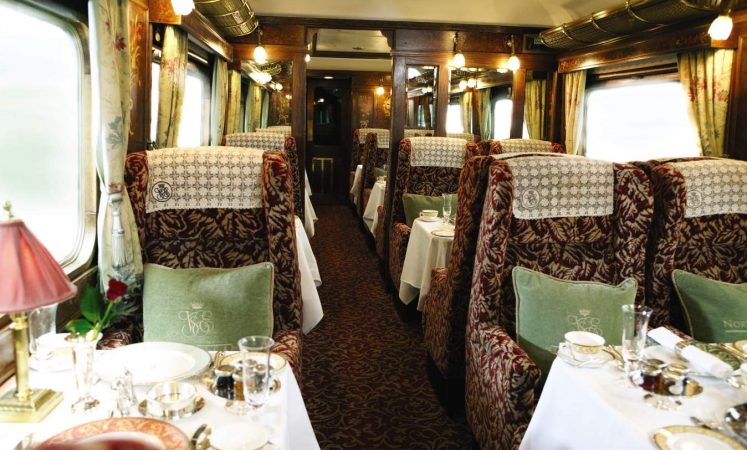 For the last, we suggest a journey on the Northern Belle. This luxurious Express has six carriages, each to seat 42 passengers while equipped with tables of two and four, with enough space for its companions to move around and be sociable. Another fun fact, each of these carriages is named after a great British castle so that you can admire 1930s designs which were passionately restored by Europe's finest marquetry experts and mosaic artists. 
Ravenous passengers can find comfort in the finest dining any European Express can offer since the course meal is handcrafted by exceptionally talented and experienced chefs. Mouth-watering brunches,  lavish lunches and delicious dinners are all served with best-handpicked champagne and wine.
Enjoy the authentic 1930s British era in the luxury of the Northern Belle.