A honeymoon is more than just a vacation; it's a magical beginning to a lifelong journey of love and togetherness. Choosing the perfect destination for this romantic getaway is crucial, and Singapore has emerged as a favoured choice for honeymooners.
With its vibrant culture, stunning architecture, lush gardens, and world-class dining, Singapore offers a captivating backdrop for newlyweds to celebrate their love. To make this experience truly unforgettable, we've curated a list of five luxury honeymoon hotels in Singapore that promise unparalleled comfort, romance, and memories to cherish.
Honeymoon: A Dreamy Start to Forever
A honeymoon marks the transition from wedding chaos to marital bliss, and it's an opportunity for couples to revel in their love in an idyllic setting. It's a time to unwind, bond, and create cherished memories that will be cherished forever. Whether you prefer a tranquil beach, a bustling cityscape, or an exotic cultural experience, the choice of your honeymoon destination sets the tone for your married life together.
A honeymoon is a journey that allows couples to step away from the familiar, embrace adventure, and celebrate the beginning of their life as partners. It's a time to deepen the connection forged during the wedding and create lasting memories. The choice of destination is pivotal, as it sets the stage for the unique experiences and romantic moments that will shape the early days of marriage.
Factors to Consider When Planning Your Honeymoon
Choosing the perfect honeymoon destination and accommodation requires careful consideration of several factors:
Budget: Determine your budget for the honeymoon, including travel, accommodation, dining, and activities. Ensure that you choose a destination and hotel that align with your financial plan.
Season: Consider the time of year you plan to honeymoon. Different destinations have varying weather patterns, and your preferred travel dates may affect the experience.
Interests: Reflect on your interests as a couple. Are you seeking relaxation, adventure, cultural exploration, or a mix of everything? Tailor your destination and activities accordingly.
Duration: Decide on the length of your honeymoon. Some couples prefer a short, intimate getaway, while others opt for an extended vacation.
Accommodation: Selecting the right accommodation is pivotal. Look for hotels that offer honeymoon packages with romantic perks, such as private dinners, spa treatments, and room decorations.
Travel Documents: Ensure that you have the necessary travel documents, such as passports and visas, well in advance of your trip.
Health and Safety: Prioritize health and safety considerations, especially in light of any ongoing global events or health concerns.
Why Singapore Is a Preferred Honeymoon Destination?
Singapore, often referred to as the "Lion City," has become a sought-after honeymoon destination for several reasons:
Cultural Diversity: Singapore boasts a rich tapestry of cultures, offering a diverse range of experiences for honeymooners. You can savour delicious street food in Chinatown, explore Little India's vibrant markets, and stroll through the historic Arab Quarter.
Romantic Gardens: The city is adorned with lush green spaces and romantic gardens. The Gardens by the Bay, with its iconic Supertree Grove, offers a surreal backdrop for couples to wander hand in hand.
Luxury Shopping: Singapore is a paradise for shoppers. Orchard Road is a shopping haven, featuring luxury boutiques and designer labels for those who wish to indulge in retail therapy.
Stunning Skyline: The Singapore skyline is a sight to behold, especially at night. Enjoy a romantic dinner with panoramic views at one of the city's rooftop restaurants.
World-Class Hotels: Singapore offers a range of luxurious accommodation options, from colonial-era hotels to modern, cutting-edge properties. These hotels understand the art of pampering honeymooners, making your stay truly memorable.
Luxury Honeymoon Hotels in Singapore
Now, let's explore five luxury honeymoon hotels in Singapore that have redefined the concept of romantic getaways:
Raffles Hotel Singapore: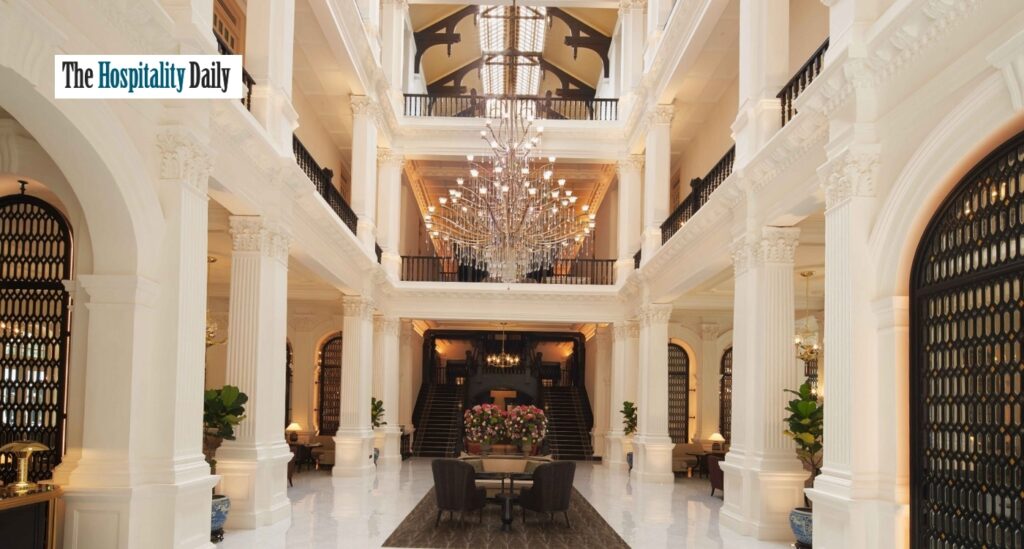 Nestled in the heart of Singapore, Raffles Hotel is an iconic colonial-era hotel that exudes timeless elegance and romance. Its lush gardens, historic charm, and legendary service make it a haven for honeymooners. You can enjoy a romantic dinner at the renowned Raffles Courtyard, a relaxing couple's massage, and personalized butler service.
Raffles Hotel Singapore offers a haven of tranquillity in the bustling city-state. The hotel's rich history and colonial architecture create an ambience that transports you to a bygone era of elegance and luxury. The hotel offers a range of luxurious suites, each beautifully appointed with a blend of classic and contemporary elements. The Palm Court Suite, in particular, is a splendid choice for honeymooners, featuring a private verandah and views of the lush gardens.
The Ritz-Carlton, Millenia Singapore
This luxurious hotel offers breathtaking views of Marina Bay and a contemporary, artistic ambience. Each room and suite is designed for maximum comfort and romance. Here you can experience a private couple's spa treatment, a sunset cocktail at the rooftop lounge, and a personalized guided art tour.
The Ritz-Carlton, Millenia Singapore, is an architectural marvel located in the heart of Marina Bay. The hotel's sleek, modern design complements the city's skyline, creating a visual masterpiece. The hotel boasts spacious and elegant rooms and suites, all featuring panoramic views of the city. The Ritz-Carlton Suite offers a luxurious retreat with a separate living area and access to the Club Lounge.
You can savour exquisite cuisine at the hotel's dining establishments, including Summer Pavilion, which offers Michelin-starred Cantonese cuisine, and Colony, which serves a buffet of local and international delights. The Ritz-Carlton, Millenia Singapore, is an art lover's paradise, featuring an impressive art collection throughout the hotel. Guests can also relax by the pool or indulge in rejuvenating treatments at the ESPA spa.
The Fullerton Bay Hotel Singapore:
Overlooking Marina Bay, this waterfront gem combines modern sophistication with a touch of nostalgia. The Fullerton Bay Hotel offers a romantic escape with its elegant rooms and stunning vista. It is a delight in a private sunset cruise, a gourmet dinner at The Clifford Pier, and a complimentary bottle of champagne.
The Fullerton Bay Hotel Singapore seamlessly blends contemporary luxury with historical charm. Located in the heart of the Civic District, the hotel offers easy access to cultural landmarks and entertainment options.The hotel features spacious rooms and suites with balconies that provide breathtaking views of the bay and city skyline. The Premier Bay View Room is a perfect choice for honeymooners.
You can indulge in a culinary journey at The Fullerton Bay Hotel's dining establishments. The Clifford Pier offers a taste of Singapore's culinary heritage, while La Brasserie serves exquisite French cuisine.
Mandarin Oriental Singapore:
It is situated in the heart of Marina Bay, Mandarin Oriental is renowned for its luxurious accommodations and impeccable service. The hotel's lavish rooms offer sweeping views of the city skyline. Enjoy a relaxing couple's spa treatment, a romantic dinner at Dolce Vita, and exclusive access to the Oriental Club Lounge. Mandarin Oriental Singapore is an urban oasis that combines elegance with a modern touch.
It's conveniently located near popular attractions like Gardens by the Bay and the Singapore Flyer. The hotel's rooms and suites are designed to provide maximum comfort and luxury. The Oriental Suite offers panoramic views of Marina Bay and the city skyline.
Mandarin Oriental Singapore offers an array of dining options. Dolce Vita serves authentic Italian cuisine, while Cherry Garden offers fine Chinese dining. Explore the nearby Marina Bay Sands, visit the iconic Merlion statue, or unwind by the hotel's outdoor pool with city views. The spa offers a range of treatments to relax and rejuvenate.
The Quincy Hotel By Far East Hospitality:
The Quincy Hotel is a stylish boutique hotel that offers a cosy and intimate atmosphere for honeymooners. With its contemporary design and excellent service, it's an ideal choice for couples seeking a trendy yet relaxed stay. Receive complimentary breakfast, evening cocktails, and access to the Club Lounge. The hotel's "Stay-Out-All-Day" concept allows you to check in early and check out late, maximizing your time together.
The Quincy Hotel By Far East Hospitality provides a modern and chic retreat in the heart of Singapore. It's perfect for couples looking for a stylish and relaxed atmosphere. The hotel's rooms are designed with a contemporary aesthetic, featuring comfortable furnishings and modern amenities.
You can Enjoy a hearty breakfast at the hotel's restaurant and unwind with evening cocktails at the lobby bar. Explore the vibrant neighbourhood of Orchard Road, known for its shopping and dining options. The hotel also offers a rooftop infinity pool and a fitness centre.
Conclusion
Your honeymoon is a journey of love, and Singapore provides the perfect canvas to paint your first memories as a married couple. With its vibrant culture, stunning landscapes, luxurious accommodations, and romantic experiences, Singapore sets the stage for an unforgettable honeymoon.
Each of the five luxury honeymoon hotels mentioned here offers its own unique charm and indulgent perks, ensuring that your honeymoon is a dream come true.
Whether you choose the colonial elegance of Raffles Hotel Singapore, the modern artistry of The Ritz-Carlton, Millenia Singapore, the waterfront romance of The Fullerton Bay Hotel, the luxury of Mandarin Oriental Singapore, or the trendy intimacy of The Quincy Hotel, your honeymoon in Singapore promises to be a chapter of your love story that you will cherish forever.