Luxury hospitality is more than just a service; it's an art, a commitment to the creation of extraordinary, personalised, and immersive experiences for discerning travellers. It embodies the fusion of opulence and functionality, where every detail is finely crafted to cater to the whims and desires of guests.
In 2023, the world of luxury hospitality has not just survived but thrived, evolving to meet the ever-changing preferences and expectations of travellers seeking an indulgent and memorable experience. This article delves into the essence of luxury hospitality, its pivotal role in the hospitality industry, the myriad benefits it offers, and the current trends that are shaping it. Additionally, we explore invaluable lessons from some of the world's most exquisite hotels, which have mastered the art of offering unparalleled experiences.
What is Luxury Hospitality?
Luxury hospitality is an exclusive niche that transforms ordinary accommodation into an extraordinary journey. It's a commitment to perfection, a promise to go above and beyond, and a dedication to the craft of delivering experiences that defy the conventional. It's the harmonious blend of artistry and practicality, ensuring every guest's stay is an unforgettable chapter in their travelogue.
Why is it Important?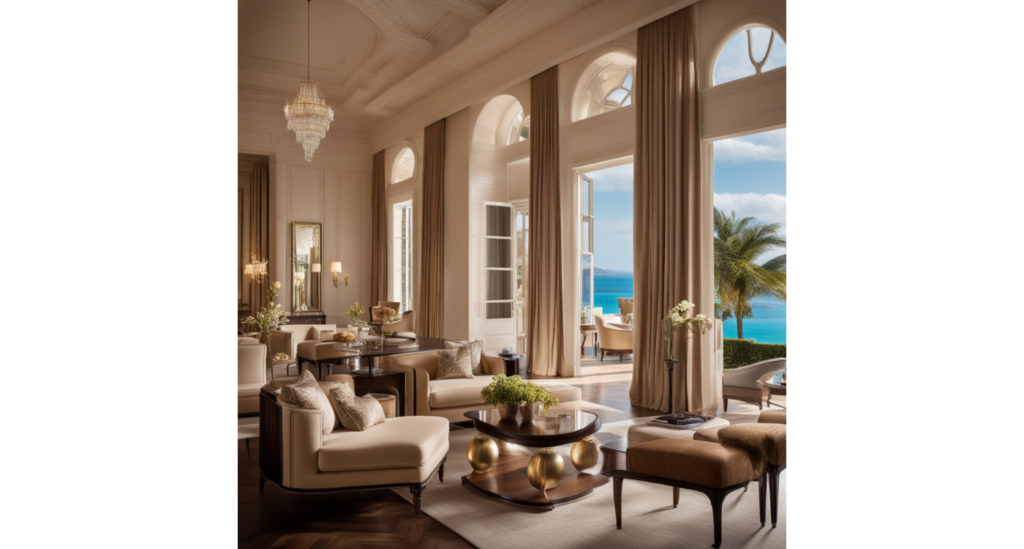 The significance of luxury hospitality transcends personal indulgence. These establishments serve as pillars of the global tourism industry, contributing significantly to local economies and offering numerous employment opportunities.
Luxury hotels are also cultural ambassadors, showcasing the essence of the places they inhabit, be it through art, cuisine, or lifestyle. They are often the preferred choice for celebratory occasions and escapades, setting the highest benchmarks for service excellence that influence the entire spectrum of the hospitality industry.
At the heart of luxury hospitality is an unwavering commitment to providing exceptional service. This dedication goes beyond the ordinary and is marked by personalised, attentive care. Guests are not anonymous faces; they are valued individuals with unique needs and preferences. Here's a closer look at the elements that make this service exceptional:
– Recognition by Name: In luxury hotels, staff members make a point of knowing their guests by name. This simple yet profound gesture adds a personal touch to the stay, making guests feel welcomed and appreciated.
– Meticulous Recording of Preferences: Luxury hotels maintain detailed guest profiles, including likes, dislikes, and special requests. Whether it's a preference for a specific type of pillow or dietary restrictions, this information is used to ensure a seamless and comfortable stay.
– Private Butlers: Some luxury establishments offer private butlers who are available around the clock to attend to guests' needs. Whether it's unpacking luggage, arranging dinner reservations, or preparing a soothing bath, these butlers are the epitome of personalised service.
– Bespoke Experiences: Luxury hotels excel in creating unique, tailored experiences for their guests. This could be arranging a private sunrise hot air balloon ride or curating a romantic beachside dinner under the stars. These bespoke experiences create lasting memories.
Fine dining is not just an option; it's an integral part of the luxury hospitality experience. The culinary offerings in luxury hotels are a testament to the art of gastronomy. Here's what makes this aspect of luxury hospitality stand out:
– World-Class Chefs: Luxury hotels often employ world-class chefs who have earned accolades and recognition in the culinary world. Their expertise is reflected in the meticulously crafted dishes that aim to tantalise not only the taste buds but also the other senses.
– Michelin-Starred Restaurants: Many luxury hotels boast Michelin-starred restaurants, a hallmark of culinary excellence. These dining establishments offer not just meals but culinary journeys that showcase innovation and creativity.
– Local Flavors and Specialised Cuisine: Luxury hotels take pride in highlighting the local flavours of their respective regions. They often collaborate with local producers and artisans to source the freshest ingredients. Specialised cuisine that reflects the culture and traditions of the area is another way luxury hotels provide a unique dining experience.
In luxury hospitality, no detail is too small to escape attention. This meticulous approach to every aspect of the guest's experience sets the stage for an unparalleled level of comfort, aesthetics, and harmony. Here's how this attention to detail manifests:
– High-Quality Linens: Luxury hotels invest in the finest linens with high thread counts, ensuring a plush and luxurious sleeping experience. From the bed linens to the bathrobes, every fabric is chosen for its comfort and durability.
– Thoughtfully Curated Room Amenities: The room amenities in luxury hotels are carefully selected to cater to the needs and desires of the guests. From high-end toiletries to state-of-the-art entertainment systems, every detail contributes to a sense of opulence.
– Immaculate Surroundings: The environment in luxury hotels is immaculately maintained. The grounds are manicured, and the interiors are kept spotless. This attention to cleanliness and aesthetics enhances the overall sense of luxury.
Local Flavors and Cultural Immersion
Luxury hotels serve as cultural gateways, allowing guests to immerse themselves in the local culture. Here's how they achieve this:
– Collaboration with Local Artisans: Luxury hotels often collaborate with local artisans to showcase traditional crafts. Guests can explore art galleries, boutiques, or workshops within the hotel premises to appreciate and purchase local artwork and crafts.
– Cultural Experiences: These hotels frequently organise cultural experiences, such as dance performances, art exhibitions, or cooking classes that allow guests to engage with the local culture.
– Opportunities to Explore Traditions: Guests are provided with opportunities to explore the region's traditions, from participating in local festivals to visiting historical sites, all designed to offer a deeper understanding of the destination.
Many luxury hotels are architectural masterpieces in their own right. The design and structure of these establishments add a unique layer to the guest experience:
– Blend of Contemporary and Traditional: These hotels seamlessly blend contemporary design with traditional elements. They combine the comforts of modernity with the charm of heritage, offering a unique visual and sensory experience.
– Iconic Landmarks: Some luxury hotels have become iconic landmarks in themselves. Their distinctive architecture and presence in the skyline contribute to the destination's identity and serve as attractions in their own right.
In luxury hospitality, creating a sense of place is essential. Here's how luxury hotels achieve this:
– Local Elements in Design: The design of luxury hotels often incorporates local elements. Whether it's the use of regional materials, traditional patterns, or culturally inspired decor, these design choices ensure that guests feel connected to the destination.
– Aromas and Textures: The ambiance in luxury hotels is carefully curated to engage all the senses. This includes fragrances that evoke the local flora, the feel of textiles that reflect the regional culture, and the soundscape that may incorporate traditional music.
– Culinary Experiences: Even the dining experiences in luxury hotels reflect the essence of the destination. Local ingredients and recipes are incorporated into the menus, allowing guests to savour the flavours of the region.
In conclusion, luxury hospitality is a realm of indulgence, where no detail is too small to enhance the guest experience. It's about personalization, exceptional service, exquisite dining, cultural immersion, architectural marvels, and a deep sense of place. Luxury hotels are not just places to stay; they are gateways to extraordinary experiences that engage the senses, celebrate local culture, and create lasting memories.
 The Trends in Luxury Hospitality in 2023
In 2023, luxury hospitality continues to evolve, adapting to meet the ever-changing desires of travellers. Here are some of the prominent trends shaping the industry:
Sustainability is no longer just a buzzword; it's a fundamental aspect of luxury hospitality. High-end hotels are actively adopting eco-friendly practices, such as reducing single-use plastics, sourcing local and organic produce, and implementing energy-efficient technologies. 
Wellness and Spa Offerings
Guests are increasingly seeking holistic wellness experiences in luxury hotels. As a result, these establishments are expanding their spa facilities, offering yoga and meditation sessions, and focusing on wellness programs that help guests rejuvenate their mind and body.
Luxury hotels are embracing technology to enhance guest experiences. Smart rooms with personalised controls, mobile apps that cater to every whim, and virtual concierge services are becoming standard offerings to meet the expectations of tech-savvy travellers.
Remote and Unique Destinations
In a post-pandemic world, travellers are exploring remote and less-visited destinations. Luxury hospitality is adapting to cater to these preferences by opening up unique and exclusive properties in untouched locations. These properties offer guests an opportunity to escape to pristine natural landscapes, far from the crowds.
Luxury travellers are increasingly seeking tailor-made experiences that are unique to their interests and desires. Hotels are responding by offering personalised adventures that cater to individual preferences. Whether it's a private wildlife safari, a customised wine-tasting tour, or exclusive access to cultural events, the goal is to create memories that will last a lifetime.
Lessons from the Finest Hotels around the Globe
The Peninsula Hotel, Hong Kong
Lesson: Tradition and Modernity in Perfect Harmony
The Peninsula Hotel in Hong Kong is a paragon of luxury and heritage. Its legacy dates back to the 1920s, and it has seamlessly blended its rich history with modern elegance. The lessons we can glean from The Peninsula include:
– Timeless Elegance: The Peninsula maintains a timeless, classic ambiance while integrating modern comforts and technology. This harmonious blend is a testament to the idea that a hotel can cherish its heritage while staying relevant in the present.
– Personalized Service: The hotel's commitment to personalized service is remarkable. Guests are not just welcomed; they are embraced with warmth and attentiveness. Their preferences, whether it's related to room temperature or pillow type, are not only noted but meticulously executed.
– Cultural Immersion: The Peninsula doesn't merely offer a room; it provides a gateway to Hong Kong's vibrant culture. The hotel collaborates with local artisans, hosts cultural events, and offers guests the opportunity to immerse themselves in the city's unique heritage.
The Ritz-Carlton, Paris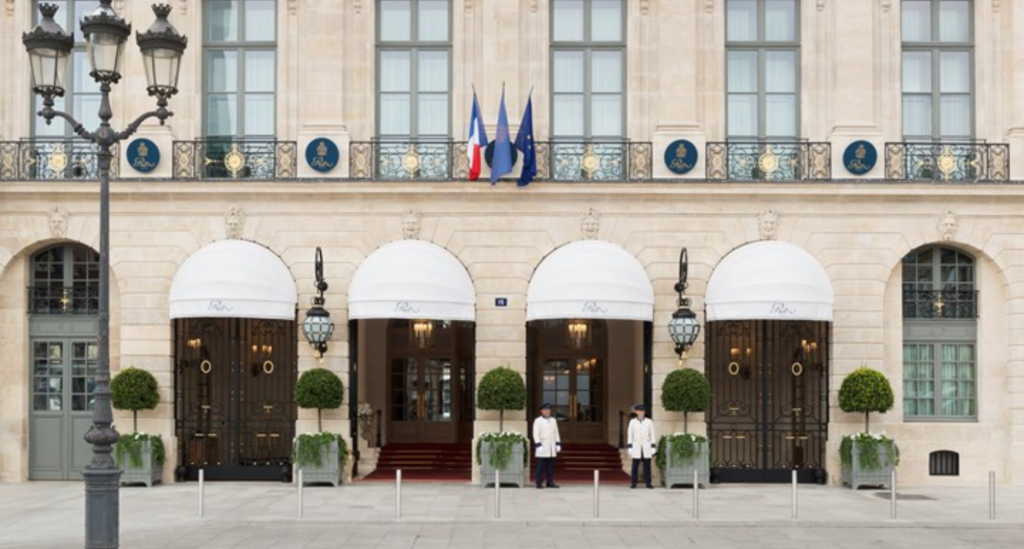 Lesson: Becoming Part of the City's Fabric
The Ritz-Carlton in Paris is a symbol of sophistication and charm. It demonstrates how a luxury hotel can be seamlessly integrated into the cultural tapestry of a city. The lessons it imparts include:
– Cultural Synergy: The Ritz-Carlton Paris is a reflection of the city's elegance and culture. It draws inspiration from the beauty and history of Paris, allowing guests to feel as if they are living in a Parisian dream.
– Iconic Views: The hotel boasts unparalleled views of the Eiffel Tower, reminding us that the location of a luxury hotel can be a defining element of the guest experience. Such views become part of the hotel's unique identity.
– Gourmet Dining: The Ritz-Carlton offers exceptional gourmet dining experiences that showcase French culinary art. This highlights the importance of celebrating local flavors while maintaining the highest standards in luxury dining.
Burj Al Arab Jumeirah, Dubai
Lesson: Pushing the Boundaries of Opulence
The Burj Al Arab Jumeirah in Dubai is the epitome of opulence and extravagance. It teaches us that luxury has no limits, and guests can be treated to an experience that goes beyond extraordinary. The lessons from Burj Al Arab include:
– Pushing Boundaries: This iconic sail-shaped hotel consistently redefines the limits of luxury. It shows that in the realm of high-end hospitality, the pursuit of opulence knows no bounds, and guests can expect experiences that are nothing short of extraordinary.
– Innovative Services: The Burj Al Arab offers unique and innovative services such as underwater dining and a helipad that transforms into a tennis court. This reflects the importance of creativity and innovation in luxury hospitality.
– Unforgettable Experiences: Every aspect of a stay at the Burj Al Arab is designed to create lasting memories. This underscores the significance of creating experiences that guests will cherish and talk about for years to come.
The Beverly Hills Hotel, Los Angeles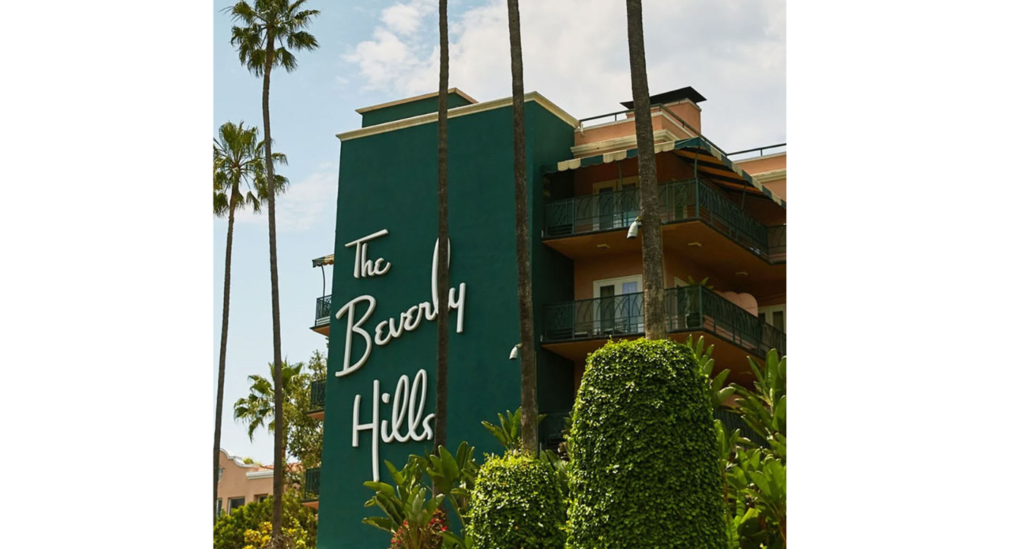 Lesson: Timeless Glamour and Nostalgia
The Beverly Hills Hotel is a lesson in preserving the glamour and nostalgia of a bygone era. It demonstrates that history and a sense of place can be instrumental in creating a winning formula in luxury hospitality. The lessons from The Beverly Hills Hotel include:
– Cultural Significance: The hotel is deeply intertwined with the Golden Age of Hollywood and the allure of celebrity life. It showcases the importance of understanding and celebrating the cultural significance of a location.
– Historical Preservation: The Beverly Hills Hotel has maintained its iconic design, preserving the nostalgia of a bygone era. This underscores the value of historical preservation and how it can enhance the guest experience.
– A Sense of Place: The hotel offers a distinct sense of place, ensuring that guests not only stay at a hotel but become part of a broader cultural narrative. This sense of place fosters a deep connection between the guest and the destination.
The Taj Mahal Hotel, New Delhi
Lesson: Showcasing Rich Heritage and Tradition
The Taj Mahal Hotel in New Delhi represents a perfect blend of luxury and local culture. It showcases the rich heritage and traditions of the region, imparting several lessons:
– Cultural Immersion: The hotel offers immersive experiences that allow guests to engage with India's rich cultural heritage. This not only enriches the guest's stay but also educates and inspires.
– Design Integration: The Taj Mahal Hotel integrates Indian design elements and motifs into its architecture and decor. This shows the importance of incorporating local design to create a sense of place.
– Local Flavors: The culinary offerings celebrate the diverse and vibrant flavors of India. This emphasizes the significance of presenting local cuisine as a core part of the luxury hospitality experience.
Conclusion
The future of luxury hospitality is a tapestry of excitement and innovation. As we journey forward, the industry will continue to adapt, catering to new traveller preferences and addressing global challenges. Sustainability, technology, personalization, and unique experiences will remain at the forefront.
To create extraordinary experiences for guests in luxury hospitality, it's essential to prioritise personalised service, exceptional gastronomy, attention to detail, cultural immersion, architectural innovation, and a sense of place. As the case studies have shown, each hotel brings its unique perspective to these elements, demonstrating that there is no one-size-fits-all approach to luxury hospitality.
In conclusion, luxury hospitality is not just about providing comfortable accommodation; it's about crafting lasting memories and delivering unparalleled experiences. As we step into the future, the industry will continue to set new standards, offering guests the opportunity to explore the world in the lap of luxury. Whether you find yourself in a historic European city, a tropical paradise, or an urban metropolis, luxury hospitality will always be a beacon of opulence and excellence, inviting you to savour the finest life has to offer. As travellers continue to seek the extraordinary, luxury hotels will be there to redefine the art of hospitality, one unforgettable experience at a time.