Dubai, the capital of Emirates of Dubai,  is one the most populated cities in UAE and one of the most famous cities in the world for its luxury style, modern architecture and bright nightlife. It is also a popular destination for travellers who find themselves confused about what to do upon reaching the city. 
Here is a list of things you can't miss on your next trip to Dubai. 
1. Burj Khalifa
One of the must-visit attractions is the iconic Burj Khalifa, the tallest building in the world which stands 828m high. It is the hub of activity day and night because the majestic building is located in the heart of the city. even though looking up in awe at the sheer scale of this magnificent architecture is memorable in itself, it's definitely worth venturing inside to soak the inner beauty of the architectural marvel.
What you can do inside, well for starters, is clean the lens of your camera and capture perfect city views from the observation deck at level 124. And if touring around gorgeous Burj has made you hungry then have a bite to eat at the Top Sky Lounge. And if you are here to celebrate a special occasion, then treat yourself to fine dining with European flair at At.mosphere, or a sunset session at the highest lounge in the world, The Lounge, Burj Khalifa. 
2. Palm Jumeirah
Islands are a sight to wonder and to get lost in the scenic beauty is a privilege. But we humans have added our own creativity to this nature's wonder and created a parody. One of the largest manmade islands in the world is Palm Jumeirah. A triumph of human ingenuity this man-made island is a must-visit if you are in Dubai.
You may ask, what a man-made island has to offer, well since it is a creation in the city, you and thousands of tourists can, first take the monorail running down the 'trunk', which connects to the mainland's tram system. Secondly, visit The Palm's vast array of high-end hotels –Waldorf Astoria, Fairmont, One&Only, Jumeirah Zabeel Saray and, perhaps most notably, Atlantis, The Palm. And for meals stop at The Pointe – home of the record-breaking Palm Fountain.
3. The Green Planet by Meraas
 Another man-made marvel that you can be astonished at is The Green Planet which is another example of mind-boggling eco-architecture like no other in the world. The world's largest life-sustaining tree resides in this man-made biodome that houses over 3000 species of plants. It is divided into thematic zones for animals like piranhas, squirrel monkeys, Burmese pythons, Cuban Amazon parrots, etc.
the most interesting attractions that one should look out for are the sloth encounter, the bat cave, and the Sugar Glider encounter. A visit here definitely tops the things to do in Dubai, especially with the family.
4. Dubai Marina, Dubai Overview
Canals are not new construction in a desert, but to construct a whole city which can give five-star hotels a run for their money Dubai Marina which is a conceptualized man-made canal city. It is located 
 in the region popularly known as 'New Dubai'. It provides a lifestyle of luxury through its exquisite waterfront development along the Persian Gulf shoreline. With the  Marina Mall Complex, a shopping and entertainment destination there are classy hotels and upscale shopping and other leisure options available for people's comfort.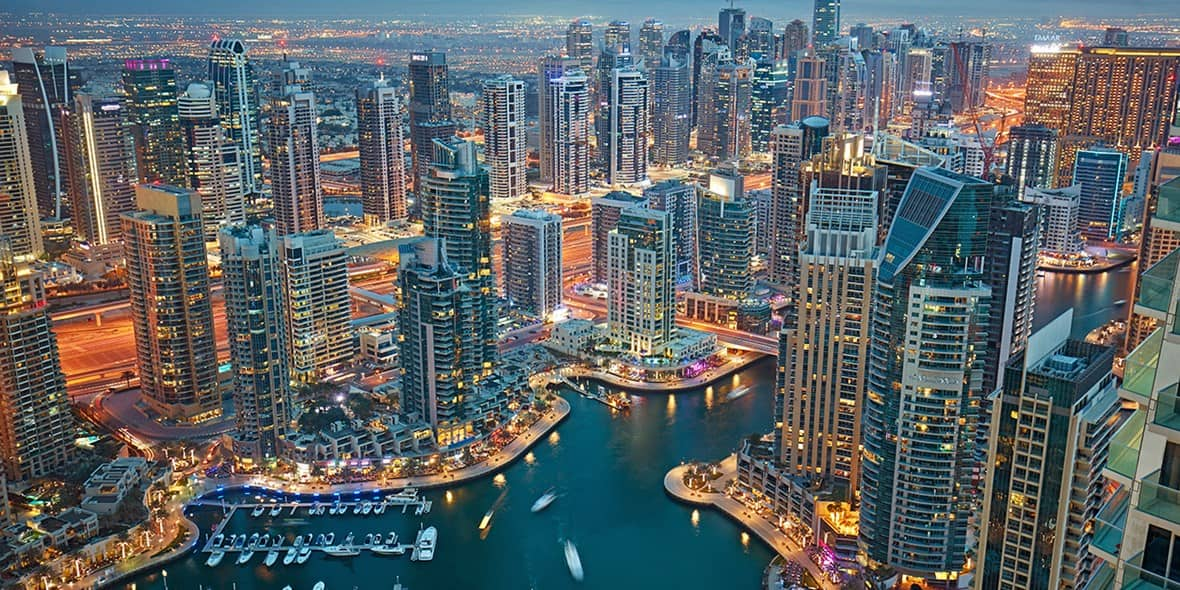 Unlike other cities whose roads are jammed with vehicles, the Marina is considered to be one of the most pedestrian-friendly areas in Dubai, making it an ideal place for many people to either go for a jog, an evening of shopping or just take a stroll by the waterfront. For a quicker commute within the Marina, there is the Dubai Tram through which one can travel to both ends of the complex for AED 3 – AED 5 varying on the distance. 
 And if wish to explore the Dubai Marina a bit differently then take the Water Bus which will takes you around the Canal. One can either choose to reach another destination in the Marina by paying AED 3 – AED 11 per ticket on this or just take a sightseeing tour on the water bus with a day pass for just AED 25.
5. Desert Safari with BBQ Dinner (Must Try)
Located in a desert, Dubai has the benefit of offering the tourist one of the best safari experiences. A tour of the Dubai deserts on a safari adventure is one of the most popular things to do in Dubai while marvelling at the beautiful views of the dunes. Try your hand at a number of other adventures such as camelback riding or sandboarding.
Take a photograph of a stunning desert sunset as you proceed towards your camp in the evening. Delight in a fantastic dinner spread as one of the most exciting activities in Dubai comes to an end, choosing from a range of vegetarian and non-vegetarian Middle Eastern delicacies.  Not just safari but you can also witness a live belly dancing show, a Tanoura dance performance and a fire show while you relax at the campsite after your desert safari in Dubai.
6. Skydiving in Dubai
 Dubai produces the best experiences whether on land or at sea – touring the incredible Burj Khalifa, extravagant Dubai Mall stretches of clean, brown deserts, tranquil sea cruises, and a lot more – But Dubai is not called a whole travel package for just the bare minimum. Dubai also produces the best experience in the sky. Enter skydiving.
Can you imagine something more adrenaline-pumping than being thrown down from a plane at 13,000 feet above sea level and freefalling at 120 miles/hour? If you have a dream to fly like a bird then engage in this intense activity on your trip to Dubai. Here's what you need to know. With both indoor and outdoor options available, skydiving in Dubai is taken to another level. It is one of a kind experience that you won't encounter anywhere else in the world.