Life is a journey in and of itself, with many twists and turns. But what if we had an adventure trip that gave us a genuine thrill and transported us to a whole new realm of adventure? High peaks and mountains, fascinating rivers, tough rivers, and getting up and personal with exotic animals are just a few of the adventurous settings that India has to offer. Whether in the north or south of India, travelers have a wealth of possibilities for an exciting trip.
The top 8 adventure places in India are listed below.
1. Chadar Trek in Ladakh
Experience the thrill of strolling across a frozen river while overcoming various obstacles. Chadar Trekking in Ladakh is an exhilarating experience.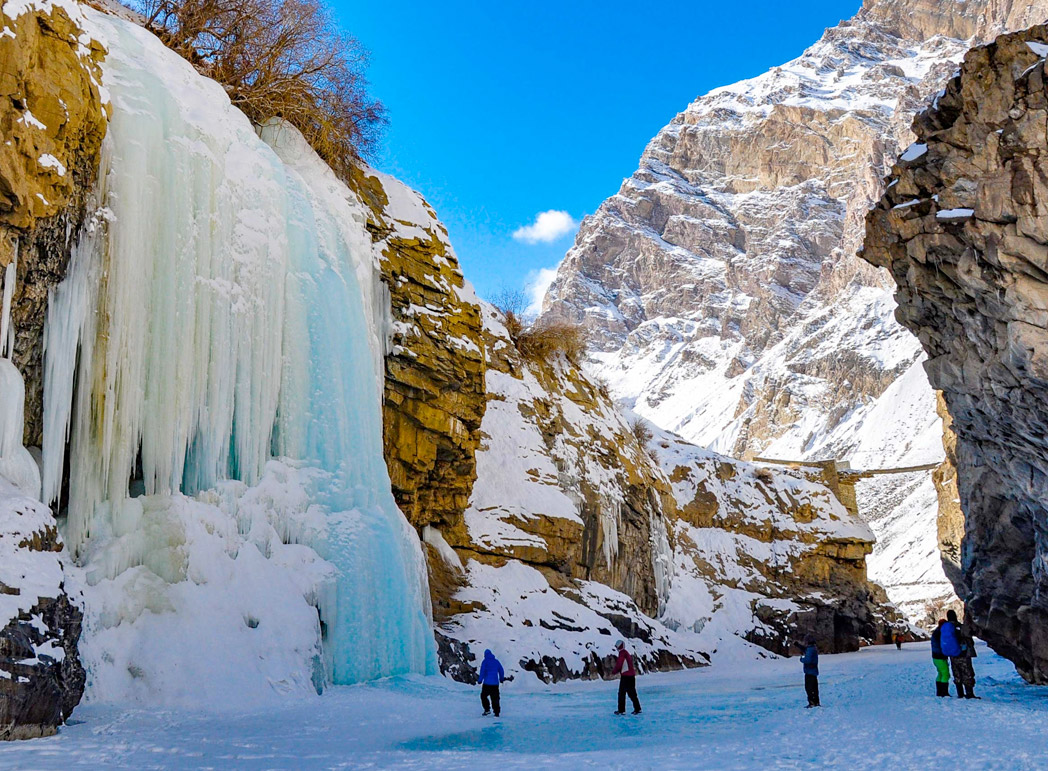 The walk takes place near the Zanskar River, which freezes and is covered in a heavy covering of snow throughout the winter season, from January to February. During the trip, one may marvel at the canyon-shaped valleys blanketed with snow.
2. Rishikesh
Rishikesh, also in Uttarakhand, is another of India's top adventure places. The Ganges runs through the city, and you can participate in a variety of water activities such as white water rafting, rappelling, and other activities.
Rishikesh has some of the nicest resorts, which are not only overlooking the Ganges but also directly on the river's edge. Many of these establishments also have rooms with picture-perfect views of the river. After months of lockdown, Uttarakhand is now available to tourists, so you can plan your trip to alleviate your lockdown blues.
3. Jim Corbett Safari- Uttarakhand
Do you want to see India's rich wild creatures, particularly tigers? Then Jim Corbett National Park is the place for you. This 13184-square-kilometer national park in Uttarakhand's Nainital region is home to a variety of rare fauna.
Tourists can go on a vehicle safari that takes them throughout the national park. If you're lucky, you could get a glimpse of Jim Corbett's royal tiger. Dhikala Zone, Bijrani Zone, Sonanadi Zone, and Durga Devi Zone are the four zones.
4. Manali
Manali is an adventurer's and nature lover's dream, with beautiful pathways through pine forests, apple orchards along the road, and a spectacular view of the Himalayas. It has a reputation for being a backpacking and honeymoon location, as well as an adventure vacation.
Take a hike up to Rohtang Pass or paraglide in Solang Valley. From Manali, a variety of trekking trails are available. You can hike to Malana in the Himalayas, a secluded community noted for its rigorous laws and regulations. You can also go on a one-hour climb to Jogini Falls from Manali.
5. Spiti Valley
Another popular adventure destination in India is the Spiti Valley trek. In fact, many visitors return to Spiti Valley time and time again. It's one of the most difficult hikes in the country, so if you fell behind on your training during the lockdown, get back on track if you want to complete it.
The finish of the walk, whatever difficult it may be, is one of the most rewarding experiences you'll ever have.
6. Bandhavgarh
The roar of the Royal Bengal Tiger reverberates throughout Madhya Pradesh, India's 'heartland.' Bandhavgarh National Park is the most exciting of the country's many national parks for animal safaris.
There are good possibilities of seeing a tiger here because the population density is the greatest in India. In Bandhavgarh's lovely green park, you may even take an elephant ride.
7. Andaman
The Andaman and Nicobar Islands are known for having some of India's top water sports and water-based activities. If you enjoy water activities such as snorkeling, scuba diving, or parasailing, this is the place to go.
The island features some of the top beach resorts and hotels, as well as aquatic sports for you to try. You can also go island hopping or participate in another water sport, depending on what is available.
8. Kaziranga
Perhaps you'd like to meet an endangered Indian rhinoceros up close. More than 2,000 rhinos live in Assam's Kaziranga National Park,
and you may glimpse them on a vehicle safari or an elephant ride across the grasslands. Elephants, wild water buffalo, and swamp deer all have high breeding populations in the park. ​
Also Read: 10 Reasons Why You Should Travel Alone