Table of contents:
Introduction
Making the most of your layover : Activities to do at Delhi international airport
The Irish house
Lotus Temple
Aerocity
Dilli Haat
Conclusion
FAQs
Introduction:
Why not check out some of Delhi's top attractions if you have a few free hours during your layover? India's capital, Delhi, is a thriving metropolis with a fascinating history and culture. Even if you can't see everything in a short amount of time, there are still a lot of locations you may go to to get a sense of the city's dynamic life and culture.
In this article, we will discuss some of the best attractions in Delhi to see when you have a 5-hour layover close to the airport. There is something for everyone in Delhi, from ancient sites to bustling markets. So prepare to explore and grab your camera!
1) Making the Most of Your Layover: Activities to Do at Delhi International Airport 
You'll probably fly through the Delhi International Airport if you're flying to or from Delhi, India. With millions of travellers passing through each year, this airport is one of the busiest in all of India. There are many sights and activities to enjoy while waiting for a flight inside the airport.
Shopping at duty-free stores:
Duty-free shopping is one of the most well-liked activities at any airport. Delhi International Airport follows suit by providing a variety of stores and boutiques for visitors to peruse. There is something for everyone, from high-end brands to regional Indian crafts.
Food and beverage:
Consuming food and beverages is another frequent activity at airports. There are many options for hungry travellers at Delhi International Airport, including sit-down eateries and quick food brands.
Leisure and Relaxation:
Finally, there are many options inside Delhi International Airport if you want to unwind and relax before a flight. There are several ways to pass the time, from spas to movie theatres.
All over, you can explore many places in the Delhi airport and have a great fun.
2) The Irish House:
India's The Irish House brand of pubs and restaurants is well-known for its fun atmosphere, delicious food, and wide selection of drinks.
The Irish House  is the ideal location to unwind and have a great time because of its warm and welcoming atmosphere. Here is all the information you require about this well-known hangout in the middle of the city.
The Irish House was established in 2009 in Mumbai and has since grown to include several sites throughout India. In 2015, Nehru Place  saw the opening of its first location.
The Irish House , with its eccentric decor and loud music, exudes a lively and vibrant environment. With hardwood tables and chairs, the furnishings are reminiscent of a classic Irish pub.
The Irish House serves a wide variety of delectable foods and beverages. Burgers, pizzas, and spaghetti are some of the most popular dishes on the menu. Irish specialties including Irish stew and fish and chips are also offered at the bar. A large selection of cocktails, mocktails, beer and whisky are available on the drinks menu, which is also very remarkable.
The Irish House serves as a gathering place for various events and activities. The bar frequently holds live music events, quizzes and sporting events. Additionally, it hosts events and offers special menus to mark various holidays and festivals, like St. Patrick's Day and Oktoberfest.
The Irish House renowned for its pleasant employees and first-rate customer service. Customers can always count on the personnel to help them and offer advice on what to eat and drink. Customers have awarded the pub high marks for its friendly atmosphere, good food, and efficient service.
The Irish House caters to a wide spectrum of clients by offering reasonably priced meals and beverages. Aside from regular promotions and discounts, the pub also offers meal deals and happy hours. It also features a membership programme that rewards loyal clients with exclusive discounts and loyalty points.
The Irish House in Delhi is a must-see for everyone searching for a fun and unforgettable night out. It's the ideal location to unwind and relax, with its lively environment, wonderful cuisine and drinks, and helpful service. So, go to The Irish House in Delhi and experience the warm and welcoming atmosphere of this popular pub.
3) Lotus Temple:
The Lotus Temple is a Bahá' House of Worship in the Indian capital of Delhi. This lotus-flower-shaped temple is one of the most visited buildings in the world, attracting millions of tourists each year.Fariborz Sahba, an Iranian-Canadian architect, designed the Lotus Temple after winning a design competition sponsored by the Bahá' community in 1980.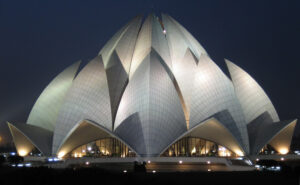 The construction of the temple began in 1982 and was finished in 1986, following four years of hard effort. In December 1986, the temple was opened to the public.
The lotus flower, a representation of holiness and spirituality in Indian culture, inspired the construction of the Lotus Temple. The temple's 27 independently standing petals covered in marble are grouped in groups of three to create nine sides.
The temple is 34.27 metres tall and has a capacity of 2,500 people at once. The central hall of the temple is a place of devotion for people of all religions because it is devoid of idols and other religious symbols.
The Temple of the Lotus is the final of the seven significant Bahá' temples constructed throughout the globe. In Persia, which is now Iran, the Bahá' faith first appeared in the 19th century.
The religion emphasises the similarity of all religions and the idea of oneness between God, religion, and humanity. For Bahá's and individuals of all religions, the Lotus Temple serves as a place of devotion and contemplation.
Greek marble imported from there is used to build the Lotus Temple. It cost about $10 million to build the temple. The temple has received many honours for its architectural design, including the 1987 Aga Khan Award for Architecture.
The iconic TV programme The Amazing Race is just one of the several movies, television programmes, and documentaries that have included the temple. The Eiffel Tower in Paris and the Taj Mahal in Agra are less popular tourist destinations than the temple.
4)Aerocity:
A contemporary and developing business area called Aerocity is situated in Delhi, India, near the city's southwest. The Indira Gandhi International Airport is not far from it, and the  Metro and other forms of public transportation make it simple to get there.
With a variety of attractions, lodgings, and food options, Aerocity is a well-liked location for vacationers, business travellers, and locals alike.The Indira Gandhi International Airport, one of the busiest in the world, is located in Aerocity.
Worldmark, a leading shopping and entertainment complex with a range of retail stores, restaurants, and movie theatres, is also open to visitors. Aerocity Central, a busy shopping and dining district with both local and international brands, is another popular attraction in Aerocity. The Roseate Hotel is a premium hotel that offers world-class amenities and services for customers seeking a more affluent experience.
Aerocity has a variety of lodging options to suit all budgets and preferences. For business travellers and tourists wanting a high-end experience, luxury hotels such as the JW Marriott, Pullman New Delhi Aerocity, and Andaz  are popular choices.
Budget hotels like ibis New Delhi Aerocity and Holiday Inn Express New Delhi Aerocity provide economical lodging without sacrificing comfort or convenience.Aerocity is easily accessible thanks to the Delhi Metro, which has a station nearby. Taxis and ride-sharing services like Uber and Ola are also easily available, as are automobile rentals through local suppliers.
A varied selection of international cuisine and regional street food are available at Aerocity, which is a food lover's delight. Foodies love to visit Worldmark and Aerocity Central because they have a wide selection of restaurants, from quick food to gourmet dining.
Chaat and parathas, two local street food options, may also be found in the region and provide a taste of genuine Delhi cuisine.A number of upscale retailers, including Michael Kors, Armani, and Gucci, can be found in Worldmark, a premier retail location.
Additionally, a variety of dining options are available, including Starbucks and Chili's. Over 200 stores can be found at the well-liked shopping centre Ambience Mall, which houses both national and international
5) Dilli Haat:
Dilli Haat is a one-of-a-kind cultural and craft fair in the heart of Delhi, India. It is a famous tourist and local destination for those looking to experience the vibrant environment, wonderful food, and exquisite handicrafts from many parts of India.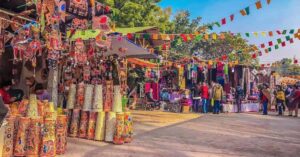 The Delhi Tourism and Transportation Development Corporation (DTTDC) established Dilli Haat in 1994 to promote traditional Indian handicrafts and cuisine.
It was envisioned as a permanent bazaar where artisans and craftspeople from around India could display their distinctive works and cultural heritage. The first Dilli Haat opened in the INA market, and its success prompted the establishment of two further facilities in Pitampura and Janakpuri.
Dilli Haat lies in the centre of Delhi, close to the renowned All India Institute of Medical Sciences (AIIMS). INA, on the Yellow Line, is the nearest metro station. Dilli Haat is a short walk away from there. Dilli Haat can also be reached via auto-rickshaw or taxi.
The entrance fee to Dilli Haat is INR 30 for adults and INR 10 for children. Every day of the year, from 10:30 a.m. to 10:00 p.m., the market is open. Dilli Haat spans around 6 acres and is separated into several portions. With thatched ceilings, bamboo screens, and cobbled pathways, the market offers a rustic and earthy vibe.
Dilli Haat's design is inspired by India's traditional village haats (weekly markets). The market is separated into around 200 stalls that are rotated among various artisans and craftsmen.
Dilli Haat is filled with traditional Indian handicrafts, textiles, jewellery, and artefacts. The market has an astounding variety of products from various parts of India that are sold directly by artisans and craftsmen.
Conclusion:
In conclusion, tourists who have a five-hour layover in Delhi near the airport have a lot to choose from. There are many sights and activities to enjoy in this energetic city, including gorgeous architecture, delectable street food, and a rich cultural legacy. Delhi offers something for everyone, whether you wish to see historical places, buy for trinkets, or try the regional food.
FAQs:
Is it safe to travel to Delhi during a layover?

Yes, Delhi is generally safe for tourists, but it's essential to take necessary precautions, such as avoiding deserted areas and staying alert.

How can I get from the airport to these tourist attractions?

The Delhi Metro is the fastest and most efficient way to get around the city. Taxis and auto-rickshaws are also available but can be more expensive.

Are these tourist attractions open during the pandemic?

Many of these tourist attractions have reopened with safety measures in place. It's best to check their websites for the latest information.

Can I see all these tourist attractions during a 5-hour layover?

It may not be possible to see all these tourist attractions during a 5-hour layover, but visitors can choose a few based on their interests and time available.

Are there any entry fees for these tourist attractions?

Yes, most of these tourist attractions have entry fees. The fees may vary based on the attraction and nationality of the visitor.