Main highlights:
The Indian ocean holds many tropical destinations that can be chosen for a great travel vacation 

 The Maldives,  Andaman and Nicobar Islands, Sri Lanka and Lakshadweep are neighbours to India and are rich in culture, biodiversity and scenic beauty. 

Mauritius,  Madagascar, Seychelles and

 Réunion are also island nations in close proximity to each other and offer the best of the tropics. 
The grand Indian Ocean spreads from the west coast of Australia to the east coast of Africa and the southern coasts of India and the Middle East, to host one of the most gorgeous tropical destinations around the globe. Whether are you looking for a beach holiday,  an island getaway or an adventure vacation, these destinations in the Indian Ocean have everything to offer with their dense tropical jungle, spicy food, beaches and rare wildlife.
So here is a list of the top 8 tropical destinations in the Indian Ocean you must consider on your next vacation.
1. The Maldives
Located southwest of India, The Maldives are as picturesque as a beach vacation can possibly be. The Maldives as a tropical destination in the Indian Ocean makes perfect sense for a vacation to explore the beautiful and expensive destination.
See roughly 1,200 islands from your aeroplane window while you reach your island and rest in your resort to take up various adventures, like scuba diving, snorkelling, paragliding and more. The resorts in the Maldives are well equipped with bars and restaurants which serves delicious cuisines with local foods of fishes and coconuts.
2. Seychelles
Known for its private resort islands attracting celebrities and royals from around the globe,  stunning flora and fauna, a sea that is as clear as spring water, and a cuisine that is a tasty mix of creole, French, Indian, African, Seychelles is a good tropical destination for travel in the Indian Ocean.
Seychelles is essentially The archipelago of around 115 islands on the east coast of Africa with three main islands which provide many activities. Land on the main island Mahe, or larger La Digue or Praslin Islands, or the private resort islands such as Fregate, or North Island, according to your budget.
3. Andaman and Nicobar Islands
One of our favourite tropical destinations in the India ocean would be Andaman and Nicobar Islands, which are the remotest territory in India.  comprise almost 600 islands, they are also home to some of the oldest active volcanoes and have a rich diversity in terms of flora and fauna, both terrestrial and aquatic. 
The Nicobar Islands are basically unreachable to tourists, but most of the Andaman Islands do receive visitors. The oldest islands here are historical as they are inhabited by tribes ancient tribes who still have kept their culture intact. The main tourist activities on the islands are scuba diving, sunbathing on one of the many beaches or a helicopter ride for a birds-eye view of the beautiful island.
4. Sri Lanka
Sri Lanka is an island country in the Indian Ocean which is a great tropical destination for your next travel. Inland cities like  Kandy are well worth visiting, as the famous Sigiriya or Lion Rock have an interior of colonial towns, national parks and temples. the various beach resorts along the coasts, especially in the south, and the beautiful old town of Galle are a must-visit.
5. Réunion, France
 the small island of Réunion is technically an overseas territory of France located between Madagascar and Mauritius in the western Indian Ocean. This tropical destination is a wonderful place which would leave you awestruck with its impressive waterfalls, dense forests which cover the island and empty sandy beaches and volcanoes. . One of the greatest things you can do on Réunion is hiking—especially a hike up to the caldera of a volcano is amazing.
6. Madagascar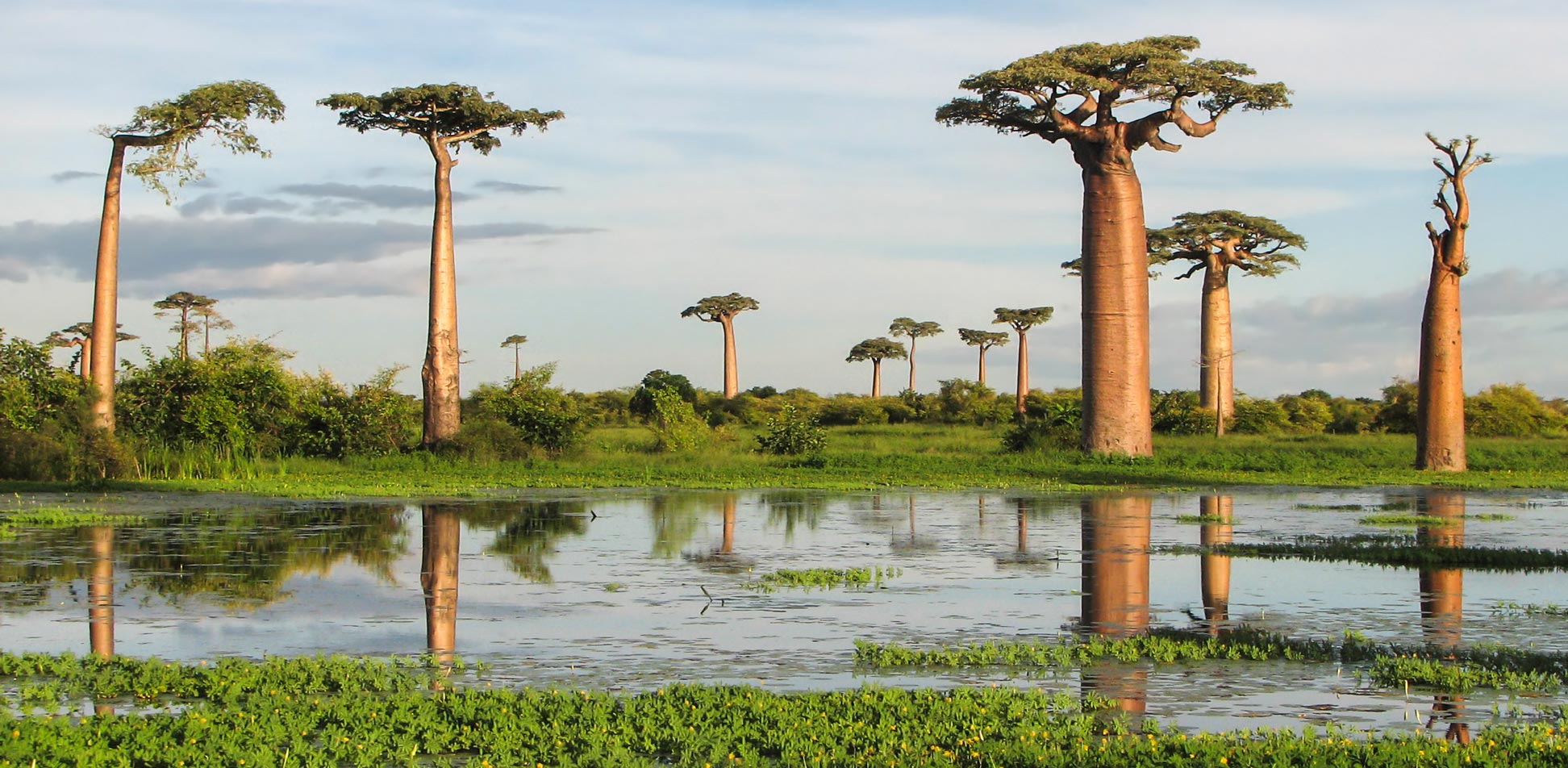 the country of Madagascar is one of the most unique and fourth largest islands in the entire world, is a fascinating tropical destination in the Indian Ocean. just slightly smaller than Texas is megadiverse, enjoying some of the world's most biodiverse habitats with roughly 200,000 species, of which 150,000 are endemic and one in twenty of all living species in the world live in Madagascar and nowhere else.  ecology and biodiversity are major tourist attractions and tourists are always excited to see chameleons and lemurs and visit rock formations in the Tsingy de Bemaraha Strict Nature Reserve and  Avenue of the Baobabs.
7. Mauritius
 one of the most culturally diverse island destinations in the Indian Ocean would be Mauritius, an island located between the Seychelles, Madagascar and Réunion. Its diversity is reflected in its geography, the interior of the island is green with enormous forestation and a field of sugarcane and mountainous, while. being surrounded by 100 miles of white, sandy beaches.
Travellers can have it all with Mauritius's array of many resorts which offers adventure facilities like scuba diving, water skiing, catamaran sailing and glass-bottom boat excursions.  Other tourist attractions would be the rugged Black River Gorges National Park with its jungle forest and waterfalls or different types of cuisines in Mauritius of different cultures due to its repeated colonization is another anomaly things to enjoy.
8. Lakshadweep
Lakshadweep in the Indian Ocean consists of 36 islands located off the coast of Kerala, India. Among its ten islands, only five islands Agatti, Bangaram and Kadmat are accessible to travellers. Being luxuriously surrounded by the brilliant blue of the Indian Ocean, decked with clusters of coconut trees and hidden lagoons makes these tropical islands a perfect tropical destination vacation for a fun beachy holiday.
With its sailing sessions, kayaking and glass-bottom boat tours, apart from tourists basking in the sun,  water sports make up the core of Lakshadweep tourism.  these islands also attract crowds of domestic and international tourists for snorkelling and scuba diving due to it being  India's only coral atoll.