In the North-Eastern state of Meghalaya, lies the cleanest village of Asia, Mawlynnong. Apart from cleanliness, the village has a lot of feathers in its cap. Be it 100% literacy or a women empowerment scenario that is still a dream for many tiers 1 city. Mawlynnong is called 'god's own garden' for all the right reasons. 
Mawlynnong is easily accessible from Shillong as it's located at a distance of 100 Km from the state's capital. The availability of buses is a matter of concern.  There is a single bus that goes from Shillong to Dawki which is closer to Mawlynnong.
However, the bus runs only if there are more than 15 passengers otherwise it will not move if there are not sufficient passengers. But you will find lots of private vehicles that could help you reach there.
It would take you approximately 2 hours and 30 minutes to reach Mawlynnong. It would be better if you could find someone you can share your expenses with to make your stay here more affordable. 
The whole journey from Shillong to Mawlynnong is purely ecstatic as it's fully encompassed by green meadows, mountains & waterfalls. The weather of the village is quite unpredictable as it would rain within minutes here.
The heavenly place could be visited at any time throughout the year but early Summers are the ideal time to visit as the weather makes the village and its surrounding lush green and thus turn absolutely picturesque.
Apart from the cleanliness, another reason to travel to Mawlynnong is its tribal culture.  Mawlynnong is a part of east Khasi hills hence you will find the Khasi community in Mawlynnong. This tribe has some peculiar features that you might not see anywhere else in the world.
This progressive tribe has left behind the old patriarchal rules of society. Children in this tribe get their mother's surname. And the wealth is inherited by the youngest daughter of the family from her mother. Moreover, the Khasi tribe is also famous for its generous hospitality and warm treatment with guests. 
If you think that Mawlynnong might not have any sight-seeing spots to offer, you are definitely wrong. The Living Root Bridges here have been declared a UNESCO World Heritage site. Hanging over a river, these bridges are made by connecting the aerial roots of massive rubber trees together.
Moreover, Sky View is a vantage point and a popular tourist attraction of Mawlynnong Village. This viewing tower is located at an altitude of 85 feet and is made of bamboo.
Once you reach the top, you'll be mesmerized by the breathtaking views. And since the village lies on the border of India and Bangladesh, you'll be able to see the landscape of Bangladesh as well. You could find some affordable homestays in the village that cost around 2000 rupees per night.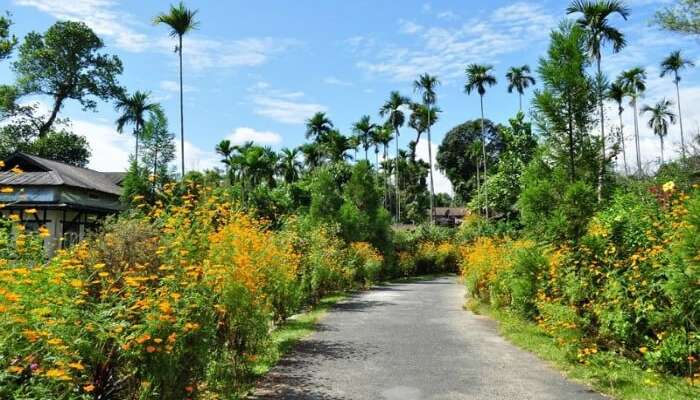 These homestays allow you to stay close to nature and have a lovely time with the locals. Accommodation in the village is quite easy to find and also won't take a toll on your pocket.
Putting all the things together, this village should be visited at least once in your lifetime. Just fall in love with its clean paths, wooden huts, treehouses & people.
Also Read: Things Flight Attendants Wish Passengers Would Stop Doing