Situated in the foothills of the Nilgiri mountain range, Ooty, which is short for Udagamandalam, is a hill station in the Tamil Nadu state. The town is located 86 kilometers northwest of Coimbatore and serves as one of the best tourist destinations in the South. Often regarded as the 'queen of hills' by locals, Ooty is a picturesque getaway you should definitely visit.
With lush tea gardens spread across its lands, serene waterfalls, and grand colonial architecture, Ooty is the perfect place for a vacation away from the chaos. Particularly popular amongst the couples and honeymooners, Ooty allures tourists with its panoramic scenes of the Nilgiri Hills. 
Whether you are a nature lover or somebody who loves adventure, you will definitely find something here that will catch your interest. You will return from this pretty town with a bag full of memories.
1. Nilgiri Mountain Toy Train 
The Nilgiri Mountain Railway was built by the British Government in 1908 and now is a World Heritage Site. This 46-kilometer long toy train journey starts at Mettupalayam and after passing through the hills and between the tunnels, ends in Ooty after 5 hours. Taking a ride of this mountain railway is one of the musts to do activities in Ooty which one cannot miss.
2. Ooty Lake 
The Ooty lakes lie approximately 2 kilometers from the city. The stunning lake is spread over 65 and its foundation was laid down by John Sullivan who was the collector of Coimbatore in 1824. This is a popular spot for picnicking, boating, and just enjoying the calm nature of Ooty.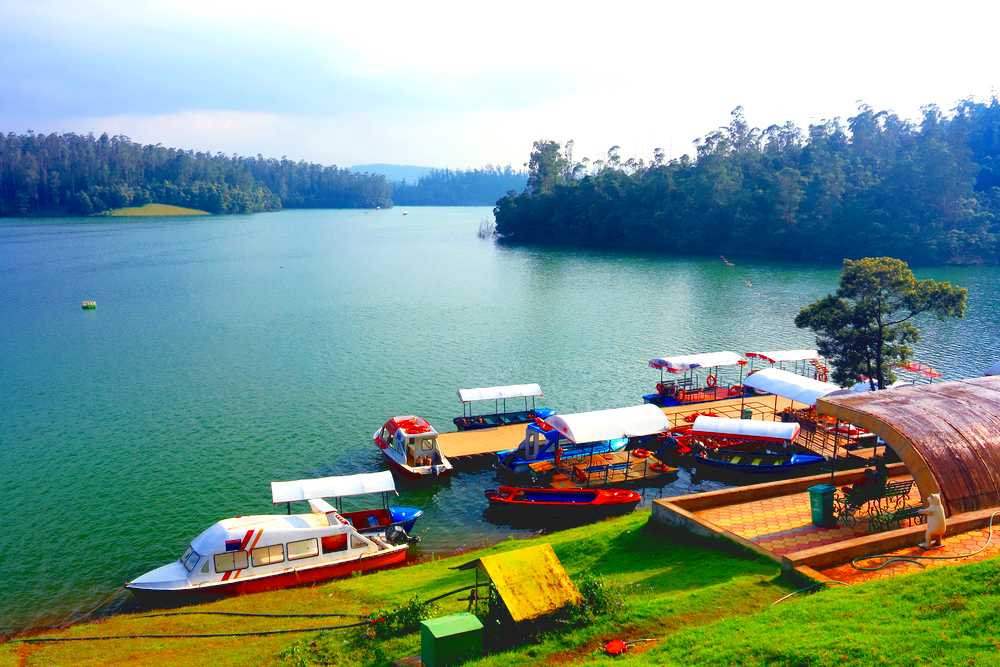 3. Botanical Garden 
Botanical Gardens of Ooty lie on the slopes of the Doddabetta peak.  Spread over an area of 22 hectares, the garden is divided into several sections that are trimmed beautifully to present a scenic view.
For more than 160 years, tourists have visited these lush green lawns, admiring the stunning variety of flowers, ferns, and orchids present here. Another highlight of these gardens is the Toda Hills, which gives outsiders an insight into the lives of the Toda tribe.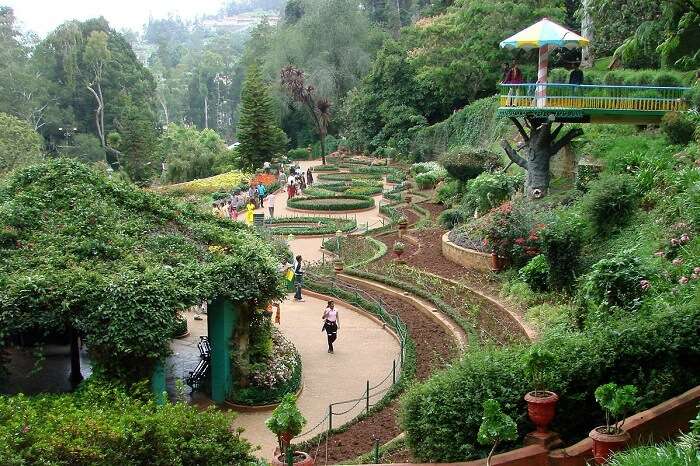 4. Dolphin's Nose 
Dolphin's Nose is a picturesque viewpoint located 1550 meters above sea level. Located around 12 kilometers from Coonoor, the tip of the giant rock here resembles a Dolphin and hence the name.
The place gives an amazing and mesmerizing view of the tea plantation gardens and the Nilgiri hills. It is one of the most visited tourists spots in the Nilgiri district. 
5. Summer Festival of Ooty
We would recommend you to visit this beautiful hill station in the summertime. Apart from the great weather, you could also attend the famous Ooty summer festival which is organized by the Tourist Department in the month of May.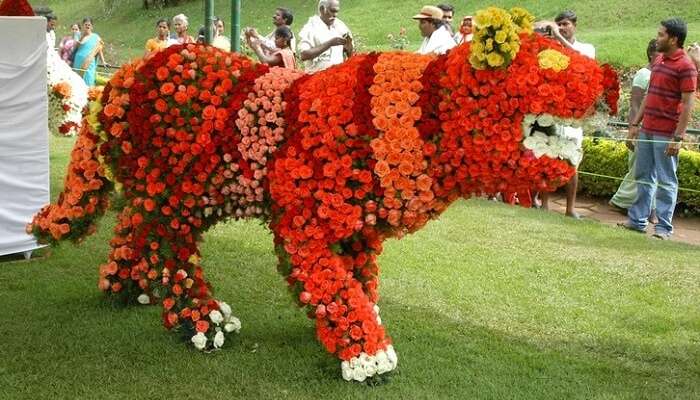 The summer festival is held every year to promote tourism in Ooty and offers a number of cultural programs like Boat Races and flower shows.