Officially called Alappuzha, Alleppey is a picturesque place famous for its beautiful backwaters and the houseboats that offer overnight stays.
Alleppey is located close to Kochi in the South Indian state of Kerala. The coastline of Alleppey offers the best beaches across Kerala with water sports during summers. Its inter-connected network of backwaters through canals, lined by palm trees attracts tourists from all over the country.
Alleppey is one of the few places which would offer you a perfect place for a family vacation as well as a honeymoon destination. 
The stays in the houseboats and so many resorts that would rejuvenate you would make your stay in Alleppey a memorable one.
The houseboats pass through the serene backwaters, which will offer you glimpses of green paddy fields, beautiful avifauna, and witness the amazing life of local people in Kerala. 
1. Houseboat Stay 
A visit to Kerala is incomplete without a stay in famous houseboats here that takes you through the backwaters of Alleppey and would give you a relaxing time while your cruise through it.
Sit back and enjoy the magnificent setting of beautiful coconut fringed waters, paddy fields, and lovely sights of the human-made islands.
2. Alappuzha Beach 
The most famous amongst the numerous pristine beaches in Kerala is the Alappuzha Beach also known as the Alleppey Beach.
The beach is quite popular for local getaways, calm water, and a more than 150-year-old pier that stretches into the sea. Apart from unadulterated beauty, the beach has some activities and attractions in and around. 
3. Kayaking in the backwaters
Kayaking is a famous fun activity amongst the tourists visiting here. Visitors often kayak here in the backwaters of Kerala where they can spot Cormorant and Kingfishers.
You can either rent a kayak from the rental store in Alleppey or from an online rental store. The price for renting kayaks ranges from 1000-1500 rupees. 
4. Snake Boat race 
Get ready for some exciting events if you are visiting Alleppey during the Onam festival. One of these events is the Snake Boat race which is a yearly competition held on the second Saturday of every August.
100-120 feet long canoe-like boats make serpentine movements through the water, thereby popularizing the name.
5. Shopping at Floating Triveni 
Your vacation to Alleppey is not complete without exploring the shopping streets of Alleppey which are popular for handicrafts items and affordable jewelry.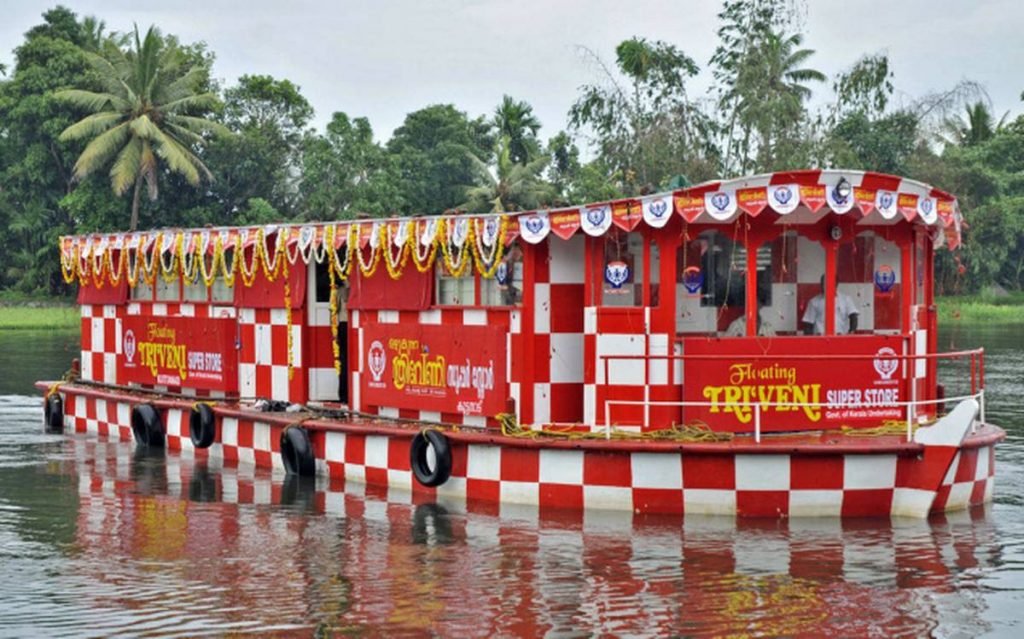 The Triveni market is quite unlike other markets as the floating boat sells everything from rice, vegetables, and refrigerators to television at pocket-friendly prices. 
Also Read:  7 countries where you can drive with an Indian license