A destination wedding has started gaining popularity in India, thanks to Bollywood. Also, nowadays more people want their weddings to be a private affair with their family members and close friends only.
Thankfully India has some exotic and beautiful locations that would make this new chapter of your life something that you would cherish all your life. Beaches, mountains, palaces, or forts; India has some mesmerizing places to make your wedding memorable.
Here are the 5 best places for destination weddings in India.
1. Udaipur 
This beautiful place is loved by Indians and foreigners both due to the lakes and palaces that exist across the city. The majestic palace buildings in Udaipur give it a grand charisma that no other city can match up to. Weddings in Udaipur seem like a surreal fairy-tale. One of the best settings you could opt for a marriage ceremony is offered by the Jag Mandir palace or the Oberoi- Udai Vilas.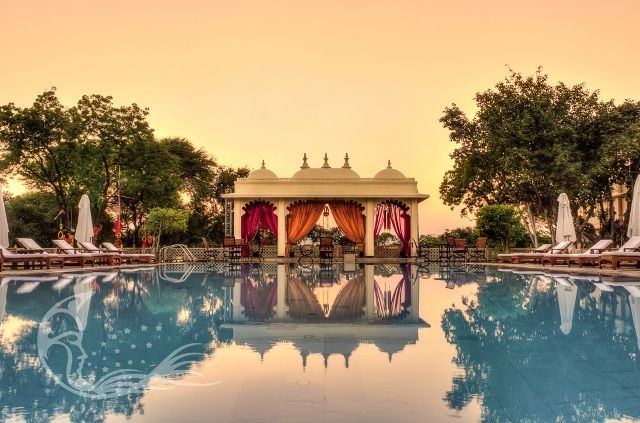 2. Jaipur
Jaipur offers a cultural mix of heritage and exquisiteness and thus it is so popular for grand marriage celebrations which usually take place in authentic flamboyant palaces or grand mansions. The 'pink city' shows a whole variety of unique festive ideas and venue options that extend from palaces like the Raj and Rambagh Palace to Havelis or traditional settings in the Samode Palace built into the Aravali Ranges. 
3. Kerala 
This gentle and serene destination, Kerala, is for those people who wish one of those calm, quiet, and picturesque ceremonies instead of opting for a huge, jam-packed, and hi-fi event. The backwaters are mesmerizing, pretty and leave a picture in people's minds that would probably stay forever. It is the perfect getaway for a Destination Wedding in India. Just enjoy the beaches covered with palm trees, the backwaters, and the lovely houseboats.
4. Andaman and Nicobar Islands 
This Indian destination wedding would transport you to a different new realm, away from the mainland, in the midst of white sand beaches, possibly in an astonishing private resort. It's no less than a coastal paradise situated in the Bay of Bengal comprising of timeless beaches and lush green forests. The Havelock or the Ross Islands are the two most popular islands of the Andaman that could host your special day. 
5. Goa
Goa is probably the trendiest and the most popular destination wedding place in India because it can give one the chance of organizing diverse sorts of weddings or ceremonies.
Whether you like to throw a happening party for your wedding on the beaches or want to perform quiet ceremonial rituals of the old churches, you can do everything in Goa. It's one of the most sought-after choices for a wedding since its tropical vibe can attract anybody. 
Also Read:  5 countries that are the most dependent on tourism