The United States of America, the world's oldest democracy and hub of the most iconic metropolitan cities in the world can actually surprise you with its topological and geographic marvels, which can be a wonderful adventurous vacation you can't even imagine.
So here we present you with a bucket list for your upcoming Adventure Vacations.
1. Yellowstone
When John Colter, a scout for Lewis and Clark, first described the magnificent beauty of Yellowstone in 1807, everyone thought he was exaggerating. But no, this magnanimous creation that spreads over 3000 plus square miles, is truly a heaven for any nature enthusiast. 
Its most defining trait is a multicoloured pool, that swirls around hot springs and volatile geysers launch streams of steaming water towards the sky. Up for an adventure, then visit this extravagant beauty just like 4 million visitors per year,  and enjoy trekking the canyons, hiking in the mountains or just sitting and taking in the beauty of waterfalls,  Yellowstone has it all.
2. Grand Canyon
As the name suggests,  the Grand Canyon is indeed grand. Resting alongside the Colorado river in Arizona, USA, Grand Canyon is the world's best-known steep-sided canyon and Euphoria for adrenaline junkies. This dragon-like ravine spreads 277 miles long, 18 miles wide and has a depth of over a mile.
The Grand Canyon has been declared a UNESCO world heritage site,  and naturally is a favourite for sight seekers and hikers at a rate of 6 million per year. And if you are an adrenaline junkie, get the experience of hardcore hiking and backwoods camping in North Rim. Tip: make this vacation more unforgettable with a helicopter ride and be awestruck by Grand Canyon. 
3. Yosemite National Park
One of the most sought-after adventurous places to travel in the United States is Yosemite National park. Located in California,  it is surrounded by Sierra National forest on the south and by Stanislaus national park on the north. Spreading over 759,620 acres, it would leave you awestruck with its granite cliffs, waterfalls, clear streams, groves, lakes giant sequoia, mountains, meadows, glaciers, and biological diversity. The best part is that even inexperienced hikers can hike, but with the assistance of tour guides, otherwise it can be as dangerous as it is beautiful. 
4. Jackson Hole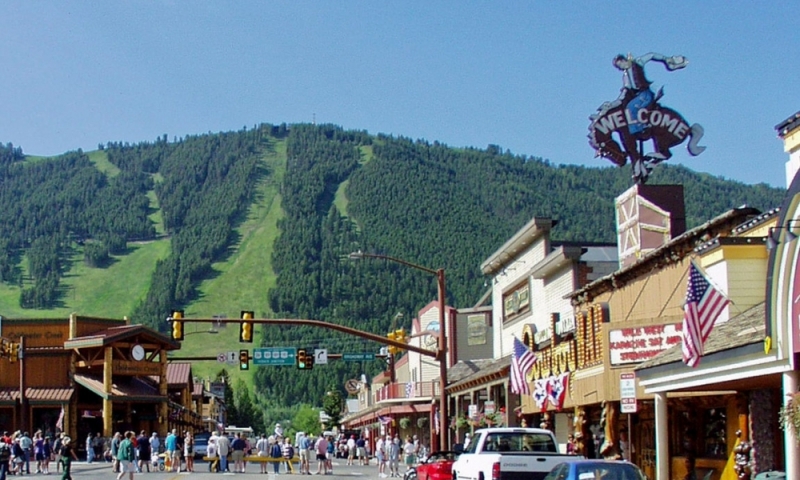 If you find all the must-see adventure sites too crowded, then Jackson Hole is perfect for you. located between Gros Ventre and Teton mountain ranges in Wyoming, USA, this low-lying valley is surrounded by mountains, rivers and streams. Unlike other glamorous sites filled with the hustle and bustle, this location is not given much thought and if you are a true adventurer then you should.  
During winter when temperatures drop, this becomes the perfect spot for skiing,  with slant hillsides and frozen lakes. If you are a fan of hiking,  visit any other time and start an expedition, give those knees some workout and try to spot beaver and elks hidden in the deep forest.
5. Lake Tahoe
I want to go for a swim and a hike at the same location,  then go to Lake Tahoe. Words like beautiful and incredible won't do justice to this masterpiece of nature. this freshwater lake in the Sierra Nevada is the USA's second deepest lake and can be explored through scenic cruises across its mirror-like water. 
Giving it panoramic views are steep granite cliff sides and towering mountaintops which are perfect for hiking trails, mountain gondola rides, hot air balloon adventures and one of the best skiing spots in the USA during winters.
6. Kauai
Also known as Garden Isle, Kauai is the second oldest island in main Hawaii and a sight to behold. Exotic words won't do justice to this magnificent beauty which can seduce anyone through its brilliant beaches, serene skies and scenic sunsets.
It is not a luxury spot where you check into a five-star resort. Grab your hiking boots and umbrella and get ready for the adventure this island has to offer. Enjoy helicopter rides exploring the island,  zipline sports,  hike along Kalalau Trail or surf along the Napali coast.
7. Maui
Not satiated with Kauai, then continue your vacation to Maui, another Hawaiian island. Maui is a perfect blend of everything that Hawaii has to offer. 
Explore the island from the top through Maui's best helicopter tours and be awestruck by the unique blend of sea, coastline and forests. explore Haleakala, the world's largest dormant volcano by hiking the Road to Hana. Done with hikes, then experience its rich biodiversity and snorkel alongside five different types of sea turtles. Or just dance with hula dancers while lounging on some of Hawaii's best beaches. 
8. Acadia National Park
Acadia National park is true heaven and a challenge for any adrenaline junkie at the same time. Located southwest of Bar Harbor,  the park is a perfect blend of 16 outlying islands, the tip of the Schoodic peninsula and half of Mount Desert Island.
Covered in beautiful granite domes, U-shaped valleys,  whilst protecting the rocky highlands, are perfect for horseback riding,  biking, hiking and rock climbing.
9. Bend
Often known as the "outdoor playground of the west" travel to this city in Oregon is famous for its year-round outdoor activities and esthetic beauty. Residing in the foothills of the Cascade Mountains, you can hike along the trail of Misery Ridge Loop Trail or grab your ropes, helmets and shoes and visit smith rock hike park which offers world-famous rock climbing experiences. 
Explore Deschutes National forest where you would find Newberry National Volcanic Monument and near the 1,000-year-old lava tubes. There are 400 lava tubes in this country. And while you enjoy hiking along the trails, don't miss out on the hiking experience on the beautiful 89-foot cascade of Tumalo Falls.
10. Anchorage
Anchorage is not an island or a park but a beautiful city, which serves as Alaska's major financial capital and houses 40% of the state's population. 
Being in Alaska can be a paradise for skiing enthusiasts. Enjoy the attractions of the city such as museums and shops. Or explore the wilderness of snow-capped peaks with other hikers, skiers and wildlife watchers.