If the vagabond within you craves a journey which gives you adrenaline rushes even with its memory, then we have a list of the best destinations around the world which are just perfect for an adventure vacation. 
1. Hiking Half Dome in Yosemite
There are many national parks in the United States of America which can be chosen for an adventure vacation, but nothing compares to Yosemite National Park. Its granite cliffs carved by lakes and forests make it a perfect spot for hiking and rock climbing. A person must apply for a climbing permit in March and prep themselves good because on these grand cliffs only 300 hikers are permitted each day. And it's not a seclusion activity cuz you will be sharing wooden slats for shoe grips, handrails and cables with all other hikers too.
2. Shark Diving in South
When Nicole Kidman, the Australian-born actress, boasted about swimming with sharks she wasn't kidding about calling it a passion. In the Neptune islands, the Merging of cold currents from the Indian ocean and warmth from the south has led to an environment supportive of mass biodiversity which serves as a platter for the top predator The Great White Sharks. Thrills seekers can come to the coast of Port Lincon and enjoy an adventure vacation with the 19-foot-long apex predators in a heavy metal steel cage. Many tour companies use to sound off the metal cage to attract the beast instead of living prey.
3. Snorkeling in Belize
If you are a fan of aquatic biodiversity but don't get satisfied with aquariums but are too intimidated by deep sea diving,  then try Snorkeling which is basically just observing and enjoying the view of the aquatic life but from a depth of not more than 10 feet.
One of the most beautiful and mesmerizing locations for snorkelling as an adventure vacation in Belize. On Ambergris Caye's Tres Coco, the water is only 8 feet deep and allows divers to see tropical fishes, urchins and stingrays. On Hol Chan Marine, which is a few miles away from Tres, divers can enjoy the thrilling experience of witnessing harmonious sharks at Shark Alley, but just don't provoke them. 
4. Heli-skiing in the Alps
An adventure vacation in the secluded wilderness of the Alps is a great idea. Ascend to a heli-skiing trip at Val Formazza, the northern edge of Piedmont, Alps and make the white snow-capped peaks your own wonderous playfield. 
Skiing enthusiasts can have a blast while they ski through a valley covered with an average of four feet of snow, and enjoy the view of the majestic peaks of Basòdino and Blinnenhorn which engulfs the valley. As grand as it is, the valley can be just as dangerous with any prior experience so do hire a professional ski guide who can personalize your vacation according to your needs. 
5. Trekking to Machu Picchu
If the vagabond in you craves seclusion and lush tropical forests and mountains are your only company then we suggest an adventure vacation to Machu Picchu. This 15th-century Inca citadel is nested deep in tropical Peruvian forest and is situated 8,000 feet above sea level, high in the Andes mountains. Tourists would love to hike along a 27-mile-long Inca trail, enjoy the magnificent Peruvian Forest view or visit the cloud forest of the Sacred Valley where you can zipline, mountain climb or camp near the waterfalls.
6. Canopy Tour in Guatemala
A true adrenaline junkie would not be afraid of heights and an adventure vacation to Tikal National park of Guatemala would test your adventurous spirit. To truly have fun, and explore then hire a guide and customize a plan. You can try ziplining through the forest and the route would give a birds eye of the area. Or just hike along the park and explore 3000 ancient temples and Mayan ruins.
7. Seeing Red-hot Lava in Hawaii
An adventure vacation where you entrail through the cliffs& forests to see hot gushing lava, capable of causing serious destruction is a good plot for a movie and also for your travelling experience. Book your flight tickets to Hawaii because there resides Mount Kilauea, an active volcano whose ongoing eruptions are a delight for tourists in Hawaii Volcanoes National Park. Yes, the civilians are safe and so will the visitors who can with their families and a tour guide, hike through the park for 3 miles and witness the flowing fire through some safe vantage spots. 
8. Skydiving in Dubai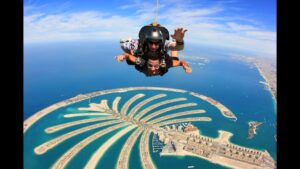 Dubai can be claimed as a city of luxury with infrastructures of golden hotels, malls and the iconic Burj Khalifa. But Dubai is also a perfect destination for an adventure vacation and is high in demand being Skydiving. With an instructor dive from a plan 13000 feet above Dubai.  while free falling for 60 seconds,  float over the gorgeous city for around 5 minutes in a state of weightlessness and soak in the view of Palm island, the Persian gulf and the famous spiralling skyscrapers.
9. Hut-to-hut Hiking in Colorado
Visiting one hut to another one in Colorado wouldn't strike as an adventure vacation to many, but it is. Spread in a network of 36 huts in the wilderness of Colorado,  was used by the 10th Mountain Division US army during their duty in the alps as a shelter.
In winter travellers can find themselves on an expedition to navigate the route of huts in the snow-capped cliffs while they Skii, escaping the dangers of avalanches. In summer travellers must be ready to sweat, as hiking or even mountain biking can reach the outstretched huts.
10. Paragliding in Umbria.
A paraglider or not, you must try to travel to the town of Castelluccio. An adventure vacation in Umbria,  Italy,  amidst the gorgeous valley of Piano Grande which gives life to thousands of red, white and purple flowers in spring is worth giving a thought. 
Sign up for a paragliding adventure at Monte Vettore for a  tandem glide over 20 minutes long 8123 feet above in the air, soaking up the impeccable view of the valley.